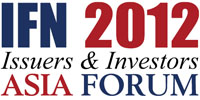 Issuers Day: Monday, 1st October 2012
Investors Day: Tuesday, 2nd October 2012
Takaful & re-Takaful Day: Tuesday, 2nd October 2012
Venue: Kuala Lumpur Convention Centre, Kuala Lumpur
Confirmed Delegates:
2089
Latest update:
Opening address on Issuers Day by Noorizah Abd Hamid, Managing Director & Chief Executive Officer, PLUS Malaysia
Case Study: DanaInfra Nasional Bhd RM2.4 billion Islamic Medium-Term Notes Issuance by Fazlur Rahman Ebrahim, Principal Officer, DanaInfra Nasional Berhad & Managing Director, Prokhas
Keynote address on Investors Day by Dr. Nik Ramlah Mahmood - Deputy Chief Executive, Securities Commission Malaysia
IFN Islamic Investors Poll Awards Ceremony during lunch on Investors Day (12:30 – 14:00)
Case Study: Khazanah Nasional's 2012 US$357 million Exchangeable Sukuk
Presentation on The Islamic Interbank Benchmark Rate by Rushdi Siddiqui - Global Head, Islamic Finance & OIC Countries, Thomson Reuters
Case-Study: IIFM & ISDA's Mubadalatul Arbaah (MA) Profit Rate Swap Product Standard
Country presentation on Sri Lanka by Faizal Salieh - Managing Director/Chief Executive Officer, Amana Bank
Ratings and the Takaful Industry by Moungmo Lee - General Manager, Analytics, A.M Best Asia Pacific
Presentation on Investment Opportunities Presented by Sukuk for Takaful Providers by Rafael Dalmau - Head of Shariah Compliant Portfolio Management, BNP Paribas
Country Presentation: Indonesia by Riestianti - Deputy Director of Directorate of Islamic Financing, Ministry of Finance Indonesia
NOTE-TO-EDITOR
IFN Issuers & Investors Asia Forum 2012
For the seventh year running, the Islamic Finance news Asia Forum is set to bring together industry experts and the market movers of the Islamic finance industry from all over the globe. This two-day event on the 1st and 2nd October will feature an Issuers Day, an Investors Day, and a Takaful and re-Takaful Day, and will address key issues pertinent to Asia's current economic climate and follow up on the latest developments within the region's Islamic financial market; including recent governmental efforts, issuer and investor interest, potential capital market issuances, as well as tax and regulatory updates.
Asia is currently leading the way in the Islamic capital markets issuance space, and Islamic fund and asset management. This progress, buoyed by a regional growth forecast of 6% by the IMF over the next year, high levels of liquidity and a continued interest from western and the Middle East market, is expected to continue on a positive growth trajectory. Challenges to Asia's growth include the Eurozone crisis and a slowing down of exports to key markets in the west. However, the Islamic investment space has shown much resilience to the ongoing global financial crisis, and has constantly exceeded market expectations.
DATE: Monday 1st & Tuesday 2nd October 2012
TIME: 9:00am to 6:00pm on each day (delegates/press to register between 8 to 9am)
VENUE: Kuala Lumpur Convention Centre
Organized by the REDmoney Group, the 7th IFN Asia Forum is fully supported by the Malaysian International Islamic Financial Centre (MIFC) and the State Government of Victoria, and endorsed by the UK Islamic Finance Secretariat (UKIFS). This year's event lead partners are: AmIslamic Bank, Bank Islam, CIMB Islamic, HSBC Amanah, HSBC Amanah Takaful and Standard Chartered Saadiq.
The Forum will feature prominent players from around the world, market experts and regulators to share their knowledge and expertise with the Asian market, which is currently a hot-bed for investors and experiencing unprecedented growth in its Islamic capital markets. It will explore the opportunities within the country for Islamic issuers, investors, corporate and financial institutions.
Amongst the topics to be discussed include: Real-Life Issues and Challenges Facing Islamic Issuers in the Asian Region • Islamic Capital Markets & Sukuk - Innovation, Development and Structuring • The Continuous Rise of the Islamic Capital Markets in Asia and Beyond • Islamic Treasury, Risk Management Products and Liquidity Management in Asian Islamic Markets • Addressing Investor Protection, Risk Management, Regulation and Compliance Issues in the Islamic Investment Environment • The Role of Institutional Investors and Takaful Funds in the Asian Islamic Investment Landscape • Focusing on investment choices and strategies for Takaful companies in Asia • and Takaful Operational and Financial Management - Surplus Sharing, Reporting and Risk Management.
Confirmed speakers include:
Abdul Jalil Rasheed - Chief Executive Officer, Aberdeen Islamic Asset Management
Abdulkader Thomas - Chief Executive Officer, SHAPE Financial
Afaq Khan - Chief Executive Officer, Standard Chartered Saadiq
Ahmad Nazir Che Yen - Senior Vice President, Treasury Islamic, Group Treasury, CIMB Islamic
Alhami Mohd Abdan - Head, International Finance & Capital Market, OCBC Al-Amin
Allan Redimerio - Director & Head, Infrastructure Ratings (Asia), Standard & Poor's LLC
Andrew Leamon - Director, Deutsche Bank AG
Angelia Chin Sharpe - Chief Executive Officer, BNP Paribas Investment Partners Malaysia
Anita Menon - Chief Risk Officer, Prudential BSN Takaful
Associate Professor Dr Asyraf Wajdi Dusuki - Head of Research Affairs Department, International Shariah Research Academy for Islamic Finance
Azim Mithani - Chief Executive Officer, Prudential BSN Takaful
Dr Aznan Hasan - Shariah Advisor, Bursa Malaysia
Badlisyah Abdul Ghani - Chief Executive Officer, CIMB Islamic
Daniel Choong - Executive Director, Head of Business Development, Nomura Islamic Asset Management
Daniel Cookson - Senior Associate, Clifford Chance
Daud Vicary Abdullah - Chief Executive Officer, INCEIF
Dominic Harvey - Partner, Vinson & Elkins
Faizal Salieh - Managing Director & Chief Executive Officer, Amana Bank
Farzana Ismail - Principal, Actuarial Partners Consulting
Fazlur Rahman Ebrahim, Principal Officer, DanaInfra Nasional Berhad & Managing Director, Prokhas
Foo Su Yin - Chief Executive Officer, RAM Rating Services
Ijlal Alvi - Chief Executive Officer, International Islamic Financial Market
Ikbal Daredia - Chief Executive Officer, Alkhair International Islamic Bank
Issam El-Tawari - Chairman & Managing Director, Rasameel Structured Finance Company
James Maclaurin - Chief Financial Officer, Axiata Group
Jeremy Grant - Asia Regional Corporate Correspondent, Financial Times
Jeroen Thijs - Chief Risk Officer, Bank Islam Malaysia
Lawrence Oliver - Deputy Chief Executive Officer, DDCap
Leoni Silitonga - Partner, Banking & Finance, Roosdiono & Partners
Lim Say Cheong - Executive Vice President and Head, Investment Banking, Al Hilal Bank
Luc Caytan - General Manager Global Financial Markets, KBL European Private Bankers
Maamor Che Alias - General Manager, Advisory & Capital Markets, Prokhas
Madzlan Hussain - Partner and Head Islamic Financial Services Practice, Zaid Ibrahim & Co
Mahdzir Othman, Chief Executive Officer, i-VCAP
Maznah Mahbob - Director, AmIslamic Funds Management
Mohamad Safri Shahul Hamid - Deputy Chief Executive Officer, CIMB Islamic
Professor Mohamed Ismail Shariff - Managing Partner, Mohamed Ismail & Co
Md Khairuddin Arshad - Chief Operating Officer, Perbadanan Insurans Deposit Malaysia
Mohd Effendi Abdullah - Director & Head, Islamic Markets, AmInvestment Bank
Mohd Farid Kamarudin - Executive Director of Sukuk and Alternative Investments, Funds Management Group, AmBank Group
Mohd Izani Ghani - Director & Chief Financial Officer, Khazanah Nasional
Mohd Nazri Chik - Head of Shariah, Bank Islam Malaysia
Dr Mohd Rafick Khan bin Abd Rahman - Regional Client Manager, Munich Re Retakaful
Monem Salam - President, Saturna
Moungmo Lee - General Manager, Analytics, AM Best Asia-Pacific
Muzaffar Hisham - Chief Executive Officer & Head, Maybank Islamic
Nani Abdul Rahman - Vice-President Origination, Global Markets, HSBC Amanah
Neil Miller - Global Head, Islamic Finance, KPMG
Ng Kit Ho - Director, Head, Debt Capital Markets Malaysia, Royal Bank of Scotland
Nicholas Edmondes - Partner, Trowers & Hamlins
Nik Norishky Thani - Head of Special Project (Islamic), Office of President & Group Chief Executive, Permodalan Nasional
Dr Nik Ramlah Mahmood - Deputy Chief Executive, Securities Commission Malaysia
Noorizah Abd Hamid - Managing Director & Chief Executive Officer, PLUS Malaysia
Noripah Kamso - Chief Executive Officer, CIMB-Principal Islamic Asset Management
Norlia Mat Yusof - Chief Investment Officer, Etiqa
Dr Nurdianawati Irwani Abdullah - Shariah Advisor, Standard Chartered Saadiq & AmTakaful
Rafael Dalmau - Head of Shariah Compliant Portfolio Management, BNP Paribas Asset Management
Raja Teh Maimunah - Managing Director, Hong Leong Islamic Bank
Riestianti Thohuri - Deputy Director of Directorate of Islamic Financing, Ministry of Finance Indonesia
Rushdi Siddiqui - Global Head, Islamic Finance & OIC Countries, Thomson Reuters
Saad Rahman - Executive Director, Global Islamic Banking, Credit Agricole CIB
Sabri Ulus - Head of Treasury & Markets, Bank Islam Brunei Darussalam
Sandeep Singh - Country Head - Malaysia & Chief Executive Officer, Franklin Templeton GSC Asset Management
Sohail Jaffer - Deputy Chief Executive Officer, FWU Global Takaful Solutions
Tariq Al-Rifai - Director, Islamic Market Indices, S&P Dow Jones Indices
Tim Dillon - Commissioner, Southeast Asia, State Government of Victoria
Usman Ahmed - Managing Director, Head, Global Islamic Banking Asia Pacific, Citibank
Wan Saifulrizal Wan Ismail - Associate Director, Towers Watson
Dr Younes Soualhi - Chairman, Shariah Board, Munich Re Retakaful
Zainudin Ishak - Chief Executive Officer, HSBC Amanah Takaful
Zukri Samat - Managing Director, Bank Islam Malaysia