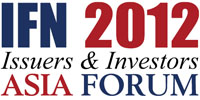 Issuers Day: Monday, 1st October 2012
Investors Day: Tuesday, 2nd October 2012
Takaful & re-Takaful Day: Tuesday, 2nd October 2012
Venue: Kuala Lumpur Convention Centre, Kuala Lumpur
Confirmed Delegates:
2089
Latest update:
Opening address on Issuers Day by Noorizah Abd Hamid, Managing Director & Chief Executive Officer, PLUS Malaysia
Case Study: DanaInfra Nasional Bhd RM2.4 billion Islamic Medium-Term Notes Issuance by Fazlur Rahman Ebrahim, Principal Officer, DanaInfra Nasional Berhad & Managing Director, Prokhas
Keynote address on Investors Day by Dr. Nik Ramlah Mahmood - Deputy Chief Executive, Securities Commission Malaysia
IFN Islamic Investors Poll Awards Ceremony during lunch on Investors Day (12:30 – 14:00)
Case Study: Khazanah Nasional's 2012 US$357 million Exchangeable Sukuk
Presentation on The Islamic Interbank Benchmark Rate by Rushdi Siddiqui - Global Head, Islamic Finance & OIC Countries, Thomson Reuters
Case-Study: IIFM & ISDA's Mubadalatul Arbaah (MA) Profit Rate Swap Product Standard
Country presentation on Sri Lanka by Faizal Salieh - Managing Director/Chief Executive Officer, Amana Bank
Ratings and the Takaful Industry by Moungmo Lee - General Manager, Analytics, A.M Best Asia Pacific
Presentation on Investment Opportunities Presented by Sukuk for Takaful Providers by Rafael Dalmau - Head of Shariah Compliant Portfolio Management, BNP Paribas
Country Presentation: Indonesia by Riestianti - Deputy Director of Directorate of Islamic Financing, Ministry of Finance Indonesia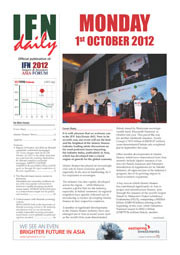 Monday, 1st October 2012
Islamic Finance News
Agenda
Features:

Impact of Finance Act 2012 on Shariah compliant residential mortgages The recent changes made by the UK Finance Act 2012 to the stamp duty land tax could have far-reaching implications for Shariah compliant residential mortgages. KRISTY COOPER, FARMIDA BI and JOHN CHALLONER guide us through the legal complexities of the new regulations
The Shariah-based money market in Indonesia Murabahah and commodity certificates are two of the most popular instruments in Indonesia's rapidly developing interbank money market. HAMUD M BALFAS gives us a comprehensive insight into its growth and structure
Critical issues with Shariah screening criteria IRINA KHAN looks at the importance of Shariah screening criteria to the industry, and discusss how we can incorporate socially responsible investing principles and promote a more globally accepted and rigorous standard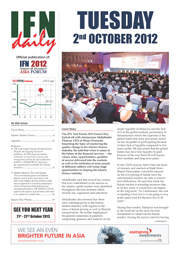 Tuesday, 2nd October 2012
Islamic Finance News
Agenda
Features:

UK real estate: Social infrastructure Despite the ongoing Eurozone problems, the UK property market continues to represent a secure and transparent avenue for diversification. JOHN A DUNKERLEY discusses the opportunities available for Islamic investors
Islamic finance: The road ahead The conventional system and Islamic finance need to learn more about each other and combine the best of both worlds into an approach to investing and finance which incorporates both financial and non-financial factors. DR MURAT UNAL explores the aspects of governance that need to be updated to achieve this
An Introduction
Following the tremendous success of last year, the 7th IFN Asia Forum will be held in Kuala Lumpur, Malaysia on the 1st & 2nd October 2012. The renowned 'Issuers & Investors' format will again ensure both the buy-side and sell-side are fully incorporated in this 2-day event.
With complimentary delegate passes for all issuers, investors, regulators and other senior and relevant key practitioners, the IFN Asia Forum 2012 will continue to be the industry's largest and leading annual event.
Currently the most liquid and resource-rich market, Asia has become the focal point for investors looking to escape the financial drubbing experienced by western markets. Perhaps the key to Asia's popularity is its status as an emerging market, which directly implies a gamut of untapped investment opportunities for development and capital requirement to serve its growing population. With its natural disposition for Islamic finance due to its population demographic, countries such as Malaysia, Indonesia, Singapore, Hong Kong and Brunei are expected to continue attracting Shariah compliant investments and funds; and inevitably become market leaders in the area with continued regulatory support and proper infrastructure development.
The growth figures for Asia are staggering, and nothing less than impressive. Southeast Asia alone is expected to grow at an average of 5.6% in 2012, up from 5.3% in 2011, while intra-trade between South Asia and the Middle East has seen a hike to 11% over the last year, and is expected to remain on an upward trajectory; all this amid the cacophony in the global financial markets. However, Asia's position as an emerging market also places it in a Catch-22 situation; while growth is hard to be ignored, risk is equally high, and an unfamiliarity among the global financial community with the business dealings within Asia and a perceived disparity in business cultures and norms has somewhat created trepidation among investors looking to park their money in what seems to be the world's most bustling region in terms of growth and issuer activity.
In terms of Islamic finance, market players are confident of key areas within Asia such as project and infrastructure financing, development of soft sectors such as IT and healthcare, and wealth management to name a few. And many are restless for the Islamic finance community to focus on this emerging market and tap the existing growth opportunities to further boost the industry's position; and perhaps to some degree popularity, among the general investment community. Should Islamic finance successfully work in tandem with Asia's growth story, there is no doubt that the market will eventually achieve what it has always sought – the elusive question of critical mass and secondary market deepening.
The 2012 IFN Asia Issuers & Investors Forum will take you around Asia and explore these growth opportunities, question Asia's exhibited resilience towards the world's current financial woes, investor appetite for Asian-based investments and of course, their concerns.
Through a series of exclusive regulatory country presentations, practitioner-led round-table discussions, non-debatable power presentations, original case studies and sector focused side sessions, the IFN Asia Forum in 2012 will again be the key, must-attend industry event for issuers, investors, regulators and all financial intermediaries involved in the Islamic financial markets with the slightest interest in the Asian markets.
With the proper implementation of regulations and the provision of sufficient infrastructure, the capital markets of Asia will continue to thrive and attract liquidity from all over the world. From being an exotic market with immense growth potential, Asia is now in the driving seat to become the world's new economic giants.
Confirmed Speakers
Abdul Jalil Rasheed - Chief Executive Officer, Aberdeen Islamic Asset Management
Abdulkader Thomas - Chief Executive Officer, SHAPE Financial
Afaq Khan - Chief Executive Officer, Standard Chartered Saadiq
Ahmad Nazir Che Yen - Senior Vice President, Treasury Islamic, Group Treasury, CIMB Islamic
Alhami Mohd Abdan - Head, International Finance & Capital Market, OCBC Al-Amin
Allan Redimerio - Director & Head, Infrastructure Ratings (Asia), Standard & Poor's LLC
Andrew Leamon - Director, Deutsche Bank AG
Angelia Chin Sharpe - Chief Executive Officer, BNP Paribas Investment Partners Malaysia
Anita Menon - Chief Risk Officer, Prudential BSN Takaful
Associate Professor Dr Asyraf Wajdi Dusuki - Head of Research Affairs Department, International Shariah Research Academy for Islamic Finance
Azim Mithani - Chief Executive Officer, Prudential BSN Takaful
Dr Aznan Hasan - Shariah Advisor, Bursa Malaysia
Badlisyah Abdul Ghani - Chief Executive Officer, CIMB Islamic
Daniel Choong - Executive Director, Head of Business Development, Nomura Islamic Asset Management
Daniel Cookson - Senior Associate, Clifford Chance
Daud Vicary Abdullah - Chief Executive Officer, INCEIF
Dominic Harvey - Partner, Vinson & Elkins
Faizal Salieh - Managing Director & Chief Executive Officer, Amana Bank
Farzana Ismail - Principal, Actuarial Partners Consulting
Fazlur Rahman Ebrahim, Principal Officer, DanaInfra Nasional Berhad & Managing Director, Prokhas
Foo Su Yin - Chief Executive Officer, RAM Rating Services
Ijlal Alvi - Chief Executive Officer, International Islamic Financial Market
Ikbal Daredia - Chief Executive Officer, Alkhair International Islamic Bank
Issam El-Tawari - Chairman & Managing Director, Rasameel Structured Finance Company
James Maclaurin - Chief Financial Officer, Axiata Group
Jeremy Grant - Asia Regional Corporate Correspondent, Financial Times
Jeroen Thijs - Chief Risk Officer, Bank Islam Malaysia
Lawrence Oliver - Deputy Chief Executive Officer, DDCap
Leoni Silitonga - Partner, Banking & Finance, Roosdiono & Partners
Lim Say Cheong - Executive Vice President and Head, Investment Banking, Al Hilal Bank
Luc Caytan - General Manager Global Financial Markets, KBL European Private Bankers
Maamor Che Alias - General Manager, Advisory & Capital Markets, Prokhas
Madzlan Hussain - Partner and Head Islamic Financial Services Practice, Zaid Ibrahim & Co
Mahdzir Othman - Chief Executive Officer, i-VCAP
Maznah Mahbob - Director, AmIslamic Funds Management
Mohamad Safri Shahul Hamid - Deputy Chief Executive Officer, CIMB Islamic
Professor Mohamed Ismail Shariff - Managing Partner, Mohamed Ismail & Co
Md Khairuddin Arshad - Chief Operating Officer, Perbadanan Insurans Deposit Malaysia
Mohd Effendi Abdullah - Director & Head, Islamic Markets, AmInvestment Bank
Mohd Farid Kamarudin - Executive Director of Sukuk and Alternative Investments, Funds Management Group, AmBank Group
Mohd Izani Ghani - Director & Chief Financial Officer, Khazanah Nasional
Mohd Nazri Chik - Head of Shariah, Bank Islam Malaysia
Dr Mohd Rafick Khan bin Abd Rahman - Regional Client Manager, Munich Re Retakaful
Monem Salam - President, Saturna
Moungmo Lee - General Manager, Analytics, AM Best Asia-Pacific
Muzaffar Hisham - Chief Executive Officer & Head, Maybank Islamic
Nani Abdul Rahman - Vice-President Origination, Global Markets, HSBC Amanah
Neil Miller - Global Head, Islamic Finance, KPMG
Ng Kit Ho - Director, Head, Debt Capital Markets Malaysia, Royal Bank of Scotland
Nicholas Edmondes - Partner, Trowers & Hamlins
Nik Norishky Thani - Head of Special Project (Islamic), Office of President & Group Chief Executive, Permodalan Nasional
Dr Nik Ramlah Mahmood - Deputy Chief Executive, Securities Commission Malaysia
Noorizah Abd Hamid - Managing Director & Chief Executive Officer, PLUS Malaysia
Noripah Kamso - Chief Executive Officer, CIMB-Principal Islamic Asset Management
Norlia Mat Yusof - Chief Investment Officer, Etiqa
Dr Nurdianawati Irwani Abdullah - Shariah Advisor, Standard Chartered Saadiq & AmTakaful
Rafael Dalmau - Head of Shariah Compliant Portfolio Management, BNP Paribas Asset Management
Raja Teh Maimunah - Managing Director, Hong Leong Islamic Bank
Riestianti Thohuri - Deputy Director of Directorate of Islamic Financing, Ministry of Finance Indonesia
Rushdi Siddiqui - Global Head, Islamic Finance & OIC Countries, Thomson Reuters
Saad Rahman - Executive Director, Global Islamic Banking, Credit Agricole CIB
Sabri Ulus - Head of Treasury & Markets, Bank Islam Brunei Darussalam
Sandeep Singh - Country Head - Malaysia & Chief Executive Officer, Franklin Templeton GSC Asset Management
Sohail Jaffer - Deputy CEO, FWU Global Takaful Solutions
Tariq Al-Rifai - Director, Islamic Market Indices, S&P Dow Jones Indices
Tim Dillon - Commissioner, Southeast Asia, State Government of Victoria
Usman Ahmed - Managing Director, Head, Global Islamic Banking Asia Pacific, Citibank
Wan Saifulrizal Wan Ismail - Associate Director, Towers Watson
Dr Younes Soualhi - Chairman, Shariah Board, Munich Re Retakaful
Zainudin Ishak - Chief Executive Officer, HSBC Amanah Takaful
Zukri Samat - Managing Director, Bank Islam Malaysia