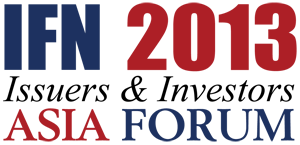 Issuers Day: Monday, 21st October 2013
Investors Day: Tuesday, 22nd October 2013
Venue: Kuala Lumpur Convention Centre

Confirmed Delegates:
2416
Floor Plan


Floor Plan for IFN Asia Forum. Click to enlarge.

SPONSORS AND PARTNERS

SUPPORTED BY

LEAD PARTNERS

MULTILATERAL STRATEGIC PARTNER

ASSOCIATE PARTNERS

LUNCHEON SPONSORS

BADGES AND LANYARDS SPONSOR

EXCLUSIVE EXCHANGE PARTNER

DELEGATE PACK SPONSOR

EXECUTIVE PARTNERS

EVENT STATIONERY SPONSOR

CORPORATE GIFT SPONSOR

BRANDING SPONSORS

LEAD MEDIA PARTNER

INTERNATIONAL MEDIA PARTNER

MEDIA PARTNERS

SPONSORSHIP OPPORTUNITIES

Click here for the latest contact information.