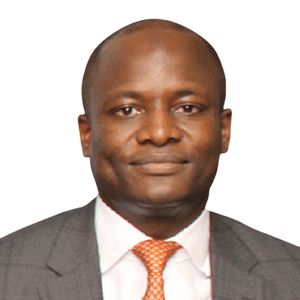 Temi Popoola
CEO, Nigerian Exchange
Temi Popoola is CEO of the Nigerian Exchange (NGX). He is a successful C-suite leader whose unique blend of business acumen, financial expertise, global market growth and operational insight has earned him a reputation built on verifiable career achievements.
A Wall Street-trained investment banker, Temi joins NGX from Renaissance Capital (Rencap) where he was the managing director and CEO for West Africa. He supported the continuous growth, profitability and success of the organization by providing strategic market insight and leadership. He led the transformation of Rencap in West Africa by diversifying the company's revenue streams into fixed income, derivatives, structured products, debt financing and wealth management. In addition to influencing change across the organization, he was responsible for overseeing a global workforce, expanding foreign investor capital opportunities into West Africa and introducing enduring business processes and strategic initiatives.
Since his return to Nigeria in 2009, Temi has also worked with United Bank of Africa as the head of structured products for global markets, and with CSL Stockbrokers as the head of sales and trading. In both of these positions, he guided growth and advancement for investors across global markets, including South Africa, the UK, the Middle East and the US.
Temi began his career in London as a portfolio manager focused on African energy markets and worked for several years as a senior equity derivatives trader with Bank of America Securities in New York where he drove firm profitability by providing derivative solutions to US corporations and family offices.
Temi graduated with a first-class honors degree in chemical engineering from the University of Lagos and holds a Master's degree from the Massachusetts Institute of Technology. He is a chartered financial analyst and a chartered stockbroker. He holds the Series 7 and 63 licensures.