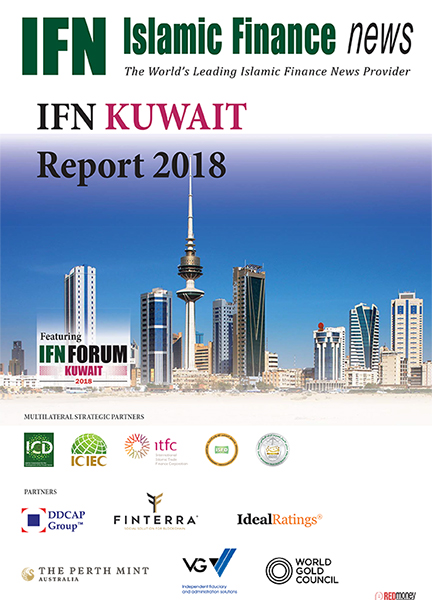 Kuwait, an important market for Islamic finance with a long-standing commitment to Islamic banking and finance, is poised to have a growing Shariah finance industry with recent market developments.

Progress in the past year in Kuwait has paved the way for its growth as a pioneer in the Islamic finance industry. The latest, and potentially groundbreaking, development in the State of Kuwait is the amendment of the Public Debt Law. The draft law, which is under discussion, would potentially signal the nation's first sovereign Sukuk. Kuwaiti investors have also been recognized for their active momentum not only in the GCC, but also in the US and Europe.

Kuwait continues to be a hot destination for investors in the debt capital markets, with the Kuwaiti bourse recently included in the FTSE Emerging Markets Index. The move is anticipated to encourage the flow of foreign investments into the Kuwaiti capital market. Investors and industry participants are keen on the Kuwaiti Islamic finance story, and the authorities have been a strong force in effectively advancing the industry and turning Kuwait into a contender among its peers in the Gulf region.

2018 will see IFN Kuwait Forum returning to Kuwait City, building on the previous successes and with the support of both local regulators and international participants to explore and encourage Shariah compliant investment opportunities into the country.
Presentations slides
Agenda
09:15 – 09:20
Welcome Remarks
09:20 – 09:25
Chairman's Remarks
Issam Al Tawari – Founder and Managing Partner, Newbury Consulting
09:25 – 09:40
Presentation: An Assessment of Financial Sector Stability in Kuwait
Nizamuddin Arshad – Advisor to the Governor on Banking Affairs, Central Bank of Kuwait
09:40 – 10:40
Mega Trends: Domestic and Global Influencers for Kuwait
We discuss key issues relevant to the economic development of Kuwait and the growth of Islamic banking and finance. We examine the Kuwaiti financial markets with a focus on geopolitical and financial risks and financial regulation. We discuss the growth and evolution of Islamic banking in the country and analyze competition and consolidation within the industry. We also assess Kuwait Vision 2035 and the relaxation of restrictions on foreign direct investment in the Emirates, particularly in relation to infrastructure finance, real estate and financial services.

Moderator:
Issam Al Tawari – Founder and Managing Partner, Newbury Consulting
Panelists:
Abdullah Al-Lanqawi –Deputy General Manager – Treasury, Ahli United Bank
Hossam Abdullah – Legal Counsel and Managing Partner, Al-Hossam Legal – Al-Turqi & Partners
Nayef Alshammari – Associate Professor, Kuwait University
Nizamuddin Arshad – Advisor to the Governor on Banking Affairs, Central Bank of Kuwait

10:40 – 11:10
Coffee Break
11:10 – 12:10
Development of Islamic Capital Markets and Asset Management in Kuwait
We look at innovation in Kuwaiti capital markets and identify where Shariah compliant products can add value and what role they can play. We discuss recent regulatory developments for Sukuk and assess current market trends: will recent significant issuance by financial institutions continue? We ask what is next for the Kuwaiti asset management industry and look at recent product innovations, particularly REITs and exchange-traded funds. What will inclusion in the FTSE Russell index mean for Kuwait's capital markets and asset management sectors?

Moderator:
Abdulkader Thomas – CEO, SHAPE Financial
Panelists:
Issam Al Tawari – Founder and Managing Partner, Newbury Consulting
Raghu Mandagolathur – Executive Vice-President – Research, Kuwait Financial Centre 'Markaz'
Thuwaini AlThuwaini – Acting Chief Investment Banking Officer, Warba Bank

12:10 – 12:35
A Golden Opportunity
Gold has come to prominence of late, either as an underlying asset or an asset class in itself. We take a closer look at recent financial products structured on or around gold and ask if the upward trend is set to continue.

Moderator:
Mark Smyth – Chief Investment Officer, Tawreeq
Panelists:
John Durham – Manager, Depository, Gold Corporation, The Perth Mint
Philip Judge – CEO, Physical Gold Fund
Robin Lee – CEO, HelloGold

12:35 – 13:05
Fintech Huddle
We discuss the role of fintech, digital platforms and tokenization in today's financial industry in Kuwait. What do the development of smart contracts, blockchains and artificial intelligence mean for Islamic banking in the region? We assess the latest developments in fintech and analyze likely industry shifts, regulation and developments in product and delivery channels.

Moderator:
Lawrence Oliver – Director and Deputy CEO, DDCAP
Panelists:
Hamid Rashid – Founder, Finterra
Robin Lee – CEO, HelloGold

13:05
Refreshment and Networking
Photo Gallery