5th December 2024
Istanbul
Turkiye is one of the brightest emerging stars of Islamic finance globally – and it is no surprise why. The Republic has all the right ingredients including a Muslim-majority population and strong support from the highest echelons of government.
With President Recep Tayyib Erdogan being a vocal supporter of Islamic finance, participation finance has grown tremendously over the last decade as local authorities put in place enabling policies and infrastructure. Today, Turkiye is home to six Shariah compliant banks, is an active participant in the sovereign and corporate Sukuk markets and is making great progress in the Halal funds sector.
The licensing of fully digital banks last year is likely to tip the scales further in favor of participation finance as three Islamic digital banks are to join the arena and likely to push the country's Islamic banking sector assets to break the 10% market share threshold by the end of 2024.
How can Turkiye best harness its potential and capitalize on its growth momentum? The industry's leading minds will share their recommendations and dissect in detail the issues the Republic faces and how to overcome them at the IFN Turkiye Dialogues 2023 in Istanbul.
It has been a great pleasure for us to take part in IFN Turkiye Dialogues. The event was very successful and beneficial for discussing and elaborating on Islamic finance in general with a particular focus on its implementation and expected growth in Turkiye. Panels held during the event, with distinguished individuals representing different actors in the finance market, were very efficient and dynamic platforms for exchanging experiences, thoughts and views on Islamic finance in general, specific products and its implementation in Turkiye.
The IFN Dialogues are a great opportunity to bring together key players in the industry to discuss critical topics for the development of the financial markets and the economy.
The event provided excellent ideas regarding potential opportunities and development areas in Islamic finance for moving forward. It covered the right topics, variety and quality of selected panelists and provided a networking opportunity. I am honored to be part of the event as a speaker and had an opportunity to discuss my views on the growth of the Sukuk market and Islamic capital market instruments and also the necessary steps to be taken in Turkiye.
In 2023 we returned to a full in-person program, with record numbers at many of our events – a sign of normality returning to the events industry.
For 2024 we have curated a fantastic lineup consisting of our regular leading events, a return to some markets after a short hiatus, and the introduction of two intriguing Islamic investment events.
We run a mixture of Forums and Dialogues throughout the year, depending on what each market responds best to. Essentially, they're very similar, with only the structure of the discussion being different. For a partner, there's no difference.
Our focus remains on delivering the best experience possible for delegates, speakers and partners.
What to look out for in 2024:
Awards Ceremonies: The IFN Awards are the most coveted in the industry and our two Awards Ceremonies in Dubai and Kuala Lumpur continue to gather the elite form the Islamic finance world.
Investor Forums: New for 2024, these two large-scale Forums in Dubai and Kuala Lumpur coincide with the launch of our new IFN Investor platform and will provide the perfect setting to discuss and debate the rapidly developing global Islamic investment space.
UK Forum: Europe's largest, longest running and most influential Islamic finance event will again return to the glorious Mansion House, under the patronage of the Lord Mayor of London. A truly global event, with key focusses on investment flows, sustainable, product development and Fintech.
Oman Forum: This is the only annual international Islamic finance event in the stunning Sultanate, and one not to miss if Oman is on your radar. Full regulatory support, and all local banks and intermediaries are in attendance.
Qatar Dialogues: In partnership with the Qatar Financial Centre, we'll continue the discussion on the development of Islamic finance in the State and its important role in the global markets.
Asia Forum: Our flagship event, the IFN Asia Forum is the largest Islamic finance focused event anywhere. Covering all markets and sectors in the region, if Asia is in your plans, this event is a must.
Indonesia Dialogues: Still the world's largest Muslim population with massive potential, this is the only international Islamic finance event in the island nation. Opportunities are rife and we're now witnessing seismic changes in the Islamic finance landscape.
Turkiye Dialogues: Returning to Istanbul with a physical event for the first time since 2019, we've been following from afar the phenomenal growth and development of the Islamic finance industry in the Republic. There's much to discuss and we'd be delighted if you joined us.
Saudi Arabia: Saudi Arabia remains the world's largest Islamic finance center and an important market for IFN. This marks our 12th KSA event where we'll be discussing and debating how the Kingdom can build on its dominance and the role Islamic finance will play towards Saudi Vision 2030.
Bahrain: Rounding off the year again in beautiful Bahrain for the World Islamic Finance Dialogues, in partnership with the Central Bank of Bahrain, we'll be reviewing the year just past, previewing the year ahead and discussing the global industry at large.
As always, all Forums will be recorded and posted online for all to view, and all events will be complemented by a comprehensive Post Event Review. .
We're excited for the new year and look forward to welcoming you to our events and assisting in the continued global growth of the Islamic financial markets.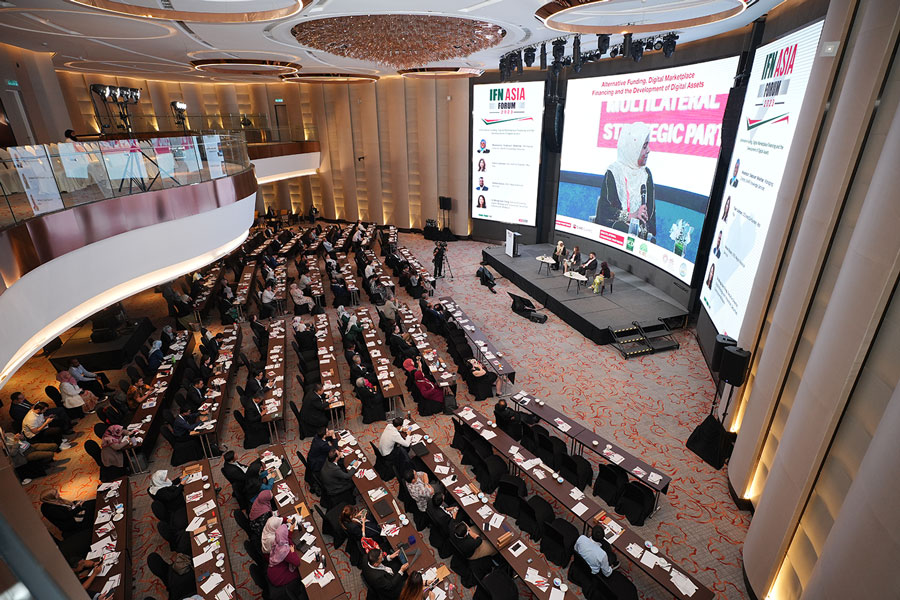 The Previous IFN Turkiye Event
IFN Turkiye OnAir Roadshow 2022
Türkiye, a vital market for participation finance (Islamic finance), had made plans to introduce new regulations for interest-free finance systems. The country had established three state participation lenders and attached great importance to non-interest finance solutions.
There were 53 banks in Türkiye, out of which six were fully-fledged participation banks, listed with the BRSA. One influential international rating agency believed that the share of participation banking assets in Türkiye was set to at least double over the next five years, helped once more by a supportive environment and expanding distribution network. Since our last visit, Türkiye had issued its debut green Sukuk facility, through state-owned Türkiye Emlak Katilim Bankasi. We had also witnessed the mooting of a mega participation bank, set up to address the financing needs and requirements of Shariah financial institutions and infrastructure projects alike. More recently during an official visit by the Malaysian Prime Minister to Türkiye to meet his counterpart and discuss bilateral cooperation, the two entities had signed an agreement to establish Türkiye's first Islamic digital bank.
REDmoney events designs, organizes and hosts industry-leading conferences, forums, roadshows, seminars and dialogues focusing on the Islamic financial markets across a global, regional and national level. Leveraging an exceptional network of the industry's elite and supported by the expertise of the REDmoney publishing and seminars divisions, REDmoney Events are able to provide access to a unique array of influential speakers, panelists and participants from a cross-section of the global industry to debate the most significant issues affecting the Shariah compliant financial markets.
REDmoney events are differentiated by their complimentary yet qualified attendance structure, ensuring the highest quality of both delegates and contributors. Comprehensive and cuttingedge, attendance ensures exclusive access to the leaders in their field across all sectors and markets.
The annual IFN Asia and IFN UK Forums are categorically recognized as their continent's leading industry events since their inception in 2006 and 2007, respectively. The Dialogues series have also become an integral element of the REDmoney events series and have cemented their position as leading, must-attend, events.
In 2024, we welcome the IFN Investor Forums, which coincide with the new IFN Investor portal.
For any inquiries contact us
Our team will be glad to answer any questions you may have about this event.