Date:

2nd & 3rd November 2020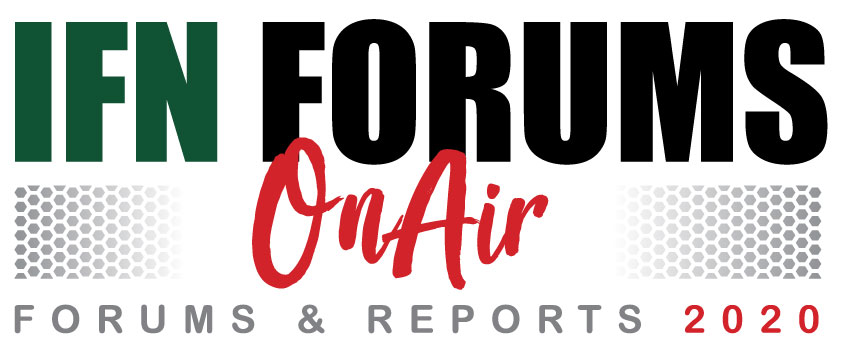 The IFN Forum OnAir Experience
Introducing IFN Forum OnAir, our exclusive online custom-built platform with your convenience in mind. IFN OnAir guarantees your full access to all of the event speakers through our interactive real-time features. Register now to experience IFN Forum OnAir.
Key features of the IFN FORUM On Air Experience:

Virtually interactive and engaging online event experience for each attendee
Experience seamless interactive features — agenda, live Q&A sessions, activity feed, polling and networking among delegates
Flexible and accessible online capabilities at your convenience, including the option to catch up on missed sessions once you have registered
A user-friendly interface that is accessible on any of your desktop, tablet and mobile devices — anywhere around the globe
An exclusive post-event report for all registered attendees
VIP access and information to our upcoming IFN Forums
ABOUT THE FORUM
The Halal industry is a fast-growing business comprising a wide range of products and services including food, cosmetics and personal care, agriculture, pharmaceuticals and health, logistic services, media as well as tourism, to name a few. The Islamic economy continues its steady growth on the back of a growing Muslim population representing 24% of the global population or 1.8 billion people around the world. Bridging Halal businesses to Islamic finance in this first of a kind forum.
Forum Agenda

Hanisofian Alias
Vice-President, Industry Development, Halal Development Corporation
The Halal Economy: Today Southeast Asia, Tomorrow the World
What represents an effective Halal economy and what are the regional and global opportunities on offer servicing, supplying, financing and managing this sector? How large, potentially, is the Halal economy both domestically and internationally and how do we undertake effective sector value chain analysis? What are the prime sectors engaged in this exciting sector and what sectors are underserved? What environment is conducive for the growth of Halal ecosystems, infrastructure and value and supply chains and what financial incentives should be made available to promote growth? What do Halal sourcing programs and self-contained Halal parks offer companies engaged in the Halal value chain? Are companies in the Halal economy exclusively using Islamic financial services, and if not, why? What role does technology play and how do government and regulators enable, promote and grow the Halal ecosystem? Who are the major international players and how can Malaysia maintain and extend the country's head start in Halal industry services? How can Malaysia increase foreign direct investment into Halal goods manufacturing for both local consumption and export? We ask an expert panel for their guidance.

Hussam Sultan
Regional Head, Commercial and Transaction Banking (Islamic), CIMB

Diana Sabrain
CEO/Co-Founder, OneAgrix

Khamilah Mohd Yusoff
Director of Food Technology and Resource Based Industries Division, Malaysian Investment Development Authority

Prof Dr Marco Tieman
CEO, LBB International

Mohd Suhaimi Abdul Hamid
CEO, Standard Chartered Saadiq

Tomás Guerrero
Manager, Halal Trade and Marketing Centre

Rizal Il-Ehzan Fadil Azim
CEO, Alliance Islamic Bank
Expanding the Halal Economy through Financing the Corporate and SME Sector
Where do corporate, trade finance, forex and treasury products for corporates play a role in the financing and development of the Halal economy? How can Islamic finance build appeal and maintain competitiveness in this segment? How can trade and export opportunities be effectively financed and leveraged on, while effectively allowing companies of all sizes to manage risk in the cross-border value chain? What Takaful and investment management solutions are demanded by and are available to corporates? What is the perception of Islamic finance among SMEs and what is the readiness of this vital sector in terms of accepting and adopting Islamic financial services? What can be done to increase this readiness in terms of education, awareness and, if necessary, incentivisation? When and how will the Shariah compliance of finance and funding sources be included as a vital consideration in Halal certification appraisals? How does technology - in particular, crowdfunding - offer a viable alternative for funding the SME sector? How are Islamic financial institutions positioning themselves to serve the corporate and SME sector, and what programs and initiatives are in place? What advice, leadership and guidance should financial institutions be offering their clients? We seek the opinions of an expert panel.

Shabnam Mokhtar
Group Executive Vice President, SHAPE™ Knowledge Services

Ahmad Shahriman Mohd Shariff
CEO, CIMB Islamic

Bilal Parvaiz
Director, Islamic Business and Head Product Management, Standard Chartered Saadiq

Joann Enriquez
CEO, Investment Account Platform

Mark Allen
CEO, Thera Capital Management

Nisa Ismail
CEO, Sedania As Salam

Dr Sutan Emir Hidayat
Director of Islamic Economy Supporting Ecosystem, National Committee of Islamic Finance

Wolfgang Holzem
CEO, eHalal Group
ADVISORY BOARD

Bilal Parvaiz
Director, Islamic Business and Head Product Management, Standard Chartered Saadiq

Mark Allen
CEO, Thera Capital Management

Dr Sutan Emir Hidayat
Director of Islamic Economy Supporting Ecosystem, National Committee of Islamic Finance
Last Visit to Kuala Lumpur
Venue:

InterContinental Hotel, Kuala Lumpur
The United Nations Commission on Trade and Development (UNCTAD) recently estimated that in order to adequately fund the 17 Sustainable Development Goals (SDGs) in developing countries, US$5 trillion to US$7 trillion will be required in annual investments by 2030. Fulfilling this ambitious financial requirement presents not only challenges, but also significant opportunities.
The recent introduction of regulatory frameworks and initiatives promoting the development of sustainable finance across Southeast Asia has highlighted the significance and relevance of this important and fast-growing sector. With more corporates, financial institutions, government bodies and regulators becoming aware of Sustainable Development Goals, countries offering environments conducive for the growth of sustainable finance and investment will see tangible and long-term benefits.
Islamic finance plays an important role. Firstly, through the development of effective sell-side capital market products such as Green Sukuk in order to fund sustainable and humanitarian projects and initiatives. Secondly, to provide and channel investment from Shariah compliant asset managers and institutional investors to such initiatives.
This one-day event, developed by REDmoney Events, will focus on the opportunities presented by the growth of ethical, sustainable and responsible finance to the Islamic banking, finance and investment industry in Southeast Asia and beyond. Through a series of engaging keynotes, interviews and panels we shall explore how Islamic and sustainable finance can become more closely interlinked, and how Shariah compliant financial institutions and asset managers can play a greater role towards the achievement of Sustainable Development Goals, including the alleviation of disease and reduction of global displacement. We also examine how the Islamic finance industry can, through effective guidance and funding, help facilitate the development of key, strategic sectors, including education, healthcare, housing and agriculture.
For any inquiries contact us
Our team will be glad to answer any questions you may have about this event.