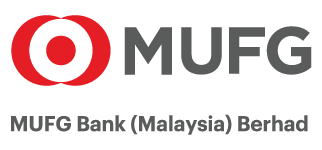 MUFG Bank (Malaysia) Berhad
Mitsubishi UFJ Financial Group (MUFG)'s banking subsidiary, MUFG Bank (Malaysia), or formerly known as Bank of Tokyo-Mitsubishi UFJ (Malaysia), has been providing services to Malaysian and Japanese corporations since 1957.
Over the past 60 years, we have strengthened our presence in Malaysia with an increased number of new customers as well as long-term relationships with a large number of Japanese investors. MUFG Bank (Malaysia) enjoys the strong support of MUFG Bank. MUFG has a 125-year tradition in international and domestic banking. Our customers enjoy access to MUFG's global network and services of 2,000 offices spanning more than 50 countries.
In recognition of the growing significance of Islamic finance in the global market, MUFG established an Islamic banking arm in Malaysia in 2008, making it the first Japanese bank to offer Islamic banking products and services.
In 2014, MUFG launched a US$500 million multicurrency Sukuk program and set a landmark by issuing the world's first yen-denominated Sukuk. In 2015, MUFG established Islamic banking capabilities at its branch in the Dubai International Financial Centre to better serve customers in the EMEA region.
With the twin hubs in Malaysia and Dubai, MUFG is committed to supporting clients by offering a comprehensive suite of Shariah compliant banking products and services, including financing, deposits, derivatives, securitization as well as advisory services.