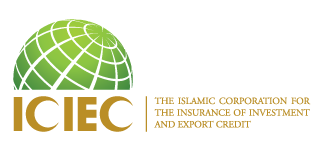 The Islamic Corporation for The Insurance Of Investment And Export Credit (ICIEC)
Established 26 years ago in 1994 as a multilateral institution and a member of the Islamic Development Bank Group, the Islamic Corporation for the Insurance of Investment and Export Credit (ICIEC) was tasked to promote cross-border trade and foreign direct investments in its member countries.
The ICIEC's mission is to make trade and investment between member countries and the world more secure through the Shariah compliant risk mitigation tool. Its vision is to be recognized as the preferred enabler of trade and investment for sustainable economic development in member countries.
The ICIEC is the only multilateral export credit and investment insurance corporation in the world that provides Shariah-compliant insurance and reinsurance solutions.
Today, the ICIEC supports trade and investment flows in 47 member countries spanning across Europe, Asia, the Middle East and Africa. Its target clients are corporates (both exporters and investors), banks and financial institutions as well as export credit agencies and insurers.