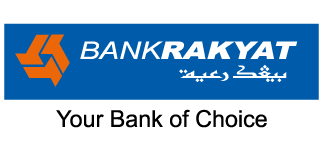 Bank Rakyat
BANK RAKYAT
Bank Rakyat was established on the 28th September 1954 under the Cooperative Ordinance and has now established a reputation as the biggest Islamic cooperative bank in Malaysia. The transformation in 2002 of the bank from a conventional banking system to a banking system based on Shariah has enabled the bank to record encouraging profits year after year.
We continue to expand our product range and customer facilities that are varied and innovative. The products and facilities include consumer banking, commercial financing, savings and investments as well as financial planning products to satisfy the many demands of a wide spectrum of modern-day customers.
We have received various accolades as an industry player and an outstanding cooperative organization in Malaysia as well as internationally.
To date, we have 147 branches with more than 1,000 automated teller machines and cash deposit machines and 184 Ar-Rahnu X'Change outlets nationwide. Bank Rakyat also operates a contact centre, tele-Rakyat, that can be reached at 1-300-80-5454 (toll-free) and the iRakyat internet banking service at www.irakyat.com.my. We can also be reached via Facebook at www.facebook.com/myBANKRAKYAT and Instagram at instagram.com/myBANKRAKYAT.