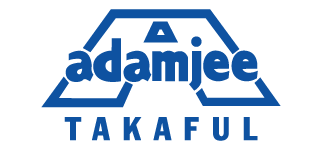 Adamjee Takaful
Adamjee Insurance Company (AICL) is one of the largest general insurance companies in Pakistan, incorporated as a public limited company on the 28th September 1960 and is listed on Pakistan Stock Exchange. AICL has a unique advantage of having regional presence in the UAE and maintains its standing through an unwavering commitment to its corporate philosophy. AICL's competitive advantage is achieved by a combination of having the largest paid-up capital and reserves, and a well-diversified business portfolio.
A truly dynamic business setting
AICL aims to deliver innovative customer solutions, owing to its wide-ranging line of products. Its employees are dedicated to performing their best for its valued customers, trained with all the skills necessary for a truly outstanding customer service. The company's focus on strengthening and expanding its global presence is reflected in its tapping the growth potential available in the UAE market. AICL in collaboration with Hollard International, a South African company, has life assurance operations under a separate entity namely, Adamjee Life Assurance Company.
Delivering value to customers
Adamjee Insurance is broadly involved in underwriting the following classes of business:
Fire and Property
Marine Aviation and Transport
Motor
Accident & Health
Miscellaneous Insurance
A wide range of Shariah compliant Takaful products are also offered through AICL's top-of-the-line window Takaful operations, serving customers from all walks of life, on a much larger scale.