Date:

9th & 10th November 2020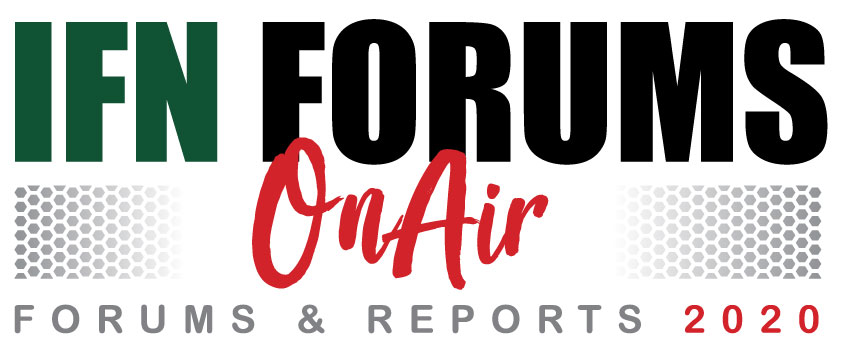 The IFN Forum OnAir Experience
Introducing IFN Forum OnAir, our exclusive online custom-built platform with your convenience in mind. IFN OnAir guarantees your full access to all of the event speakers through our interactive real-time features. Register now to experience IFN Forum OnAir.
Key features of the IFN FORUM On Air Experience:

Virtually interactive and engaging online event experience for each attendee
Experience seamless interactive features — agenda, live Q&A sessions, activity feed, polling and networking among delegates
Flexible and accessible online capabilities at your convenience, including the option to catch up on missed sessions once you have registered
A user-friendly interface that is accessible on any of your desktop, tablet and mobile devices — anywhere around the globe
An exclusive post-event report for all registered attendees
VIP access and information to our upcoming IFN Forums
ABOUT THE FORUM
IFN returns to Saudi Arabia for the seventh time to host one of the biggest events in its annual calendar. IFN Saudi Arabia Forum 2020 Will be held Online to explore the opportunities in one of the most active and influential markets in the Islamic financial world, bringing the Kingdom onto the global stage and opening up the market for local, domestic and international players interested in entering this most vibrant of industries.
Forum Agenda

H.E. Dr Fahad Abdullah Aldossari
Deputy Governor, Saudi Arabian Monetary Authority
Back-to-Basics: Opportunities for Islamic Finance to Flourish in Saudi Arabia
The world has changed. How our industry - Islamic banking, finance and investment - chooses to respond to these changes may be a generation-defining moment. How can Islamic finance mobilize in Saudi Arabia to address the imminent challenges of the real economy and provide not just liquidity support, but solvency support to the Saudi SME and corporate sector? Can Islamic finance in the Kingdom use this opportunity to become truly responsible, inclusive and ethical, while at the same time contributing to the country's growth and development? How can we as an industry ensure this is substance over form on a permanent basis? How can the core values of Islamic finance be further applied to sustainable and socially responsible finance and investment strategies and how can the UN Sustainable Development Goals be applied to the Kingdom's Islamic finance activities? How can Islamic finance continue to play a role in the progress and development in Saudi Arabia's important housing, mortgage finance and privatization programs? We ask a respected panel for a new roadmap to success for Islamic banking, finance and capital markets in Saudi Arabia.

Abdulkader Thomas
Group CEO, SHAPE™ Knowledge Services

Dr Ahmed Elkhodary
Director of Strategy and Transformation, Islamic Development Bank

Asad Ahmed
Managing Director, Alvarez & Marsal

Mahmoud Abdel-Baky
Partner, Dentons

Paul Latto
Partner, DLA Piper seconded to Alshahrani Almansour

Dr Sutan Emir Hidayat
Director of Islamic Economy Supporting Ecosystem, National Committee of Islamic Finance
Funding, Infrastructure, Capital Markets and Responsible Finance Initiatives in Saudi Arabia
With the Kingdom issuing its first green Sukuk, how can sustainable and responsible finance make further progress in Saudi Arabia and can the UN Sustainable Development Goals be applied to the Kingdom's Islamic finance and investment activities? Are social bonds an opportunity for the Kingdom? Are regulatory Sukuk still a viable option for Saudi Arabian banks seeking to enhance liquidity and capital management, while diversifying funding sources? Where is the Saudi Arabian asset management industry heading and how has the progress been for recent product innovations, particularly Real Estate Investment Trusts and Sukuk Funds? What is the potential of Waqf for capital markets in Saudi Arabia? How is Waqf typically structured and what are the main variations? Lastly, we examine the Kingdom's infrastructure requirements in the coming years and ask what can be funded through Islamic facilities, how can risk be effectively managed and do public/private partnerships offer a viable opportunity?

Dr John Sandwick
General Manager, Safa Investment Services

Ashraf Madani
Vice-President, Moody's Investors Service

Lawrence Oliver
Deputy CEO, DDCAP Group

Nicolas Bremer
Partner, Alexander and Partner

Paul McViety
Head of Islamic Finance, DLA Piper

Zaineb Sefiani
Founder and Director, Carrera Learning
ADVISORY BOARD

Abdulkader Thomas
Group CEO, SHAPE™ Knowledge Services

Nitish Bhojnagarwala
Vice-President, Senior Credit Officer, Moody's Investors Service

Zaineb Sefiani
Founder and Director, Carrera Learning
Venue:

Mövenpick Hotel Riyadh
Issuers & Investors Forum will feature prominent players from all over the globe, market experts and regulators to share their knowledge and expertise with the Saudi Arabia market. It will explore the opportunities within the country for Islamic issuers, investors, corporates and financial institutions.

This one day event on the 28th April 2019 will feature an Issuers and Investors and will address key issues pertinent to Saudi Arabia's current economic climate and follow up on the latest developments within the region's Islamic financial market.
For any inquiries contact us
Our team will be glad to answer any questions you may have about this event.