Date:

15th - 29th March 2021
IFN are pleased to announce a series of online Roundtables bringing you engaging, thought-provoking analysis of the most topical and stimulating themes currently within Islamic and sustainable finance, and FinTech. Each 75-minute session will take place during March 2021 and will feature a moderator joined by three industry speakers for an informative, lively and interactive dialogue. The Roundtables will be streamed to our live audience via our platform and social media channels, and full-length videos will be posted to our website. As part of an extensive pre- and post-event marketing and promotion campaign each Roundtable will be followed up by an exclusive report and a podcast, both accessible via www.islamicfinancenews.com.
PANELISTS
Each IFN Roundtable will feature an independent moderator who will be responsible, with REDmoney's guidance, for preparing, managing and facilitating the session. The moderator will be joined by a maximum of three other speakers.
AUDIENCE
The IFN Roundtable Series will be marketed extensively to our extensive international database. Each Roundtable will be broadcast on our platform as well as live streamed on IFN social media channels, with full-length available for viewing on our website post event. Sessions will be scheduled to attract the widest possible international audience.
Each event will be complemented by an exclusive follow-up Report, published in conjunction with all supporting Partners and distributed to the entire IFN global database, ensuring event Partners reach not just those in attendance, but tens of thousands around the world. This is truly unique. As the only Islamic finance event organizer with a truly global publishing arm, nobody else can offer such an opportunity. All panellists will feature in the cover story.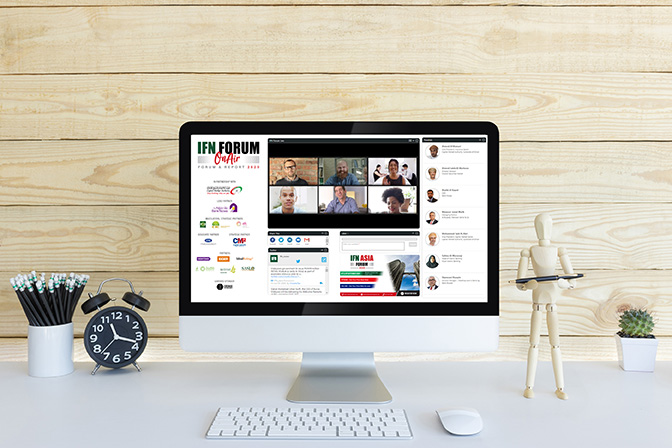 At REDmoney, 2020 taught us much about the state of the events business. What works, what doesn't and how to continue delivering unparalleled programs to our global audience.
It's a fundamental element of our business going forward, and we will continue to adapt to ensure we remain relevant and our events remain the industry's best.
The global appetite and requirements for converging has shifted and now more than ever, we are strategically planning our events to adapt to these changes in the face of disruption without compromising on the quality of knowledge transfer and outreach.
Technological advancements have given rise to exciting opportunities in developing new formats that allows unlimited real time interaction remotely.
Moving forward, we will deliver a blend of physical and online events, ensuring the best of both worlds. Physical interaction is important to many, whilst travel and time away from the office isn't always necessary to reach new markets.
For 2021, through careful research and planning, we have curated bespoke events online and offline with your interest in mind.

15th, 22nd and 29th March 2021
*9:30 - 10:30 on the 29th March
What does the sustainable financial institution of the future look like? Who are the stakeholders and how should they be engaged? In a sustainable financial institution, how is capital deployed, what product ranges are appropriate and how is the institution governed? What does low carbon mean for financial institutions in the financing of key industries and sectors? What returns are on offer for financial institutions employing sustainable principles?

David Korslund
Consultant, Values-Based Banking
Green and transition fixed income products, including bonds and Sukuk, constitute one of the world's fastest growing asset classes. Analysts expect 2021 issuance to reach record levels as governments seek sustainable recoveries. How are these instruments structured, priced, rated and distributed and what role do regulatory frameworks play in these processes? What are ESG investors looking for and what segment-specific characteristics and challenges need to be addressed?

Cedric Rimaud
Climate Finance Specialist

Benjamin Cliquet
Consultant, Vigeo Eiris
Islamic finance and the development of the Halal economy are symbiotic. However, where and how does sustainability come in? What do sustainable, Halal supply chains of the future look like and how do Islamic banking and financing products play a role?

Vineeta Tan
Managing Editor, Islamic Finance News
REGISTER HERE FOR IFN SUSTAINABLE FINANCE ROUNDTABLE SERIES
Regulation, scale, customer base, competition, funding and capital, and strategy all combine to determine a FinTech's viability and ultimately, longevity. We ask an expert panel for their views on the sustainability and success of Shariah compliant financial technology. Concurrently, we seek views on interesting and notable trends and opportunities in 2021.
REGISTER HERE FOR THE IFN FINTECH ROUNDTABLE
Who needs Shariah compliant trade finance solutions and what assistance and funding do they require? How can Islamic trade finance improve the lives of people engaged in agriculture in developing countries? How are Islamic trade finance products used to manage complex risks such as forex in developed markets? How can structured Islamic trade finance solutions be effectively employed within global agricultural and supply chains?
REGISTER HERE FOR IFN ISLAMIC TRADE FINANCE ROUNDTABLE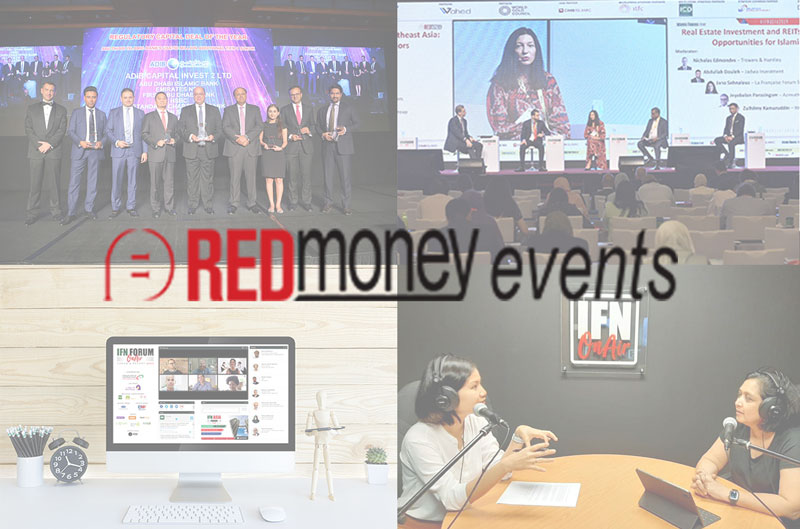 REDmoney events designs, organizes and hosts industry-leading conferences, forums, roadshows, seminars and dialogues focusing on the Islamic financial markets across a global, regional and national level. Leveraging an exceptional network of the industry's elite and supported by the expertise of the REDmoney publishing and seminars divisions, REDmoney Events are able to provide access to a unique array of influential speakers, panellists and participants from a cross-section of the global industry to debate the most significant issues affecting the Shariah compliant financial markets.
REDmoney events are differentiated by their complimentary yet qualified attendance structure, ensuring the highest quality of both delegates and contributors. Comprehensive and cutting-edge, attendance ensures exclusive access to the leaders in their field across all sectors and markets.
The annual IFN Asia Forum has been the biggest event in the industry since its inception in 2006, attracting over 1,000 delegates annually. An annual line-up of Forums are also conducted across emerging markets and key jurisdictions. Included under REDmoney Events are the IFN Awards Ceremonies, which take place annually in Dubai and Kuala Lumpur, and attract more than 800 industry leaders.
For any inquiries contact us
Our team will be glad to answer any questions you may have about this event.