Date:

19th & 20th October 2020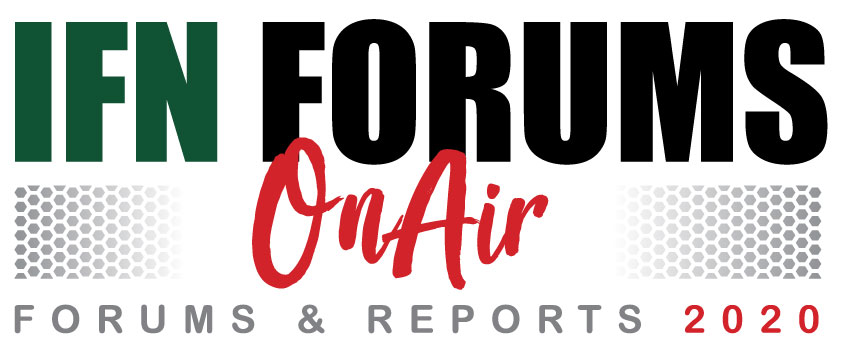 The IFN Forum OnAir Experience
Introducing IFN Forum OnAir, our exclusive online custom-built platform with your convenience in mind. IFN OnAir guarantees your full access to all of the event speakers through our interactive real-time features. Register now to experience IFN Forum OnAir.
Key features of the IFN FORUM On Air Experience:

Virtually interactive and engaging online event experience for each attendee
Experience seamless interactive features — agenda, live Q&A sessions, activity feed, polling and networking among delegates
Flexible and accessible online capabilities at your convenience, including the option to catch up on missed sessions once you have registered
A user-friendly interface that is accessible on any of your desktop, tablet and mobile devices — anywhere around the globe
An exclusive post-event report for all registered attendees
VIP access and information to our upcoming IFN Forums
About the Forum
Kuwait, an important market for Islamic finance with a long-standing commitment to Islamic banking and finance, is poised to have a growing Shariah finance industry with recent market developments. Progress in the past year in Kuwait has paved the way for its growth as a pioneer in the Islamic finance industry. The latest, and potentially groundbreaking, development in the State of Kuwait is the amendment of the Public Debt Law, which if passed, would potentially signal the nation's first sovereign Sukuk. Kuwaiti investors have also been recognized for their active momentum not only in the GCC, but also in the US and Europe.
Forum Agenda
Back-to-Basics: Opportunities for Islamic Finance to Flourish in Kuwait
The world has changed. How our industry - Islamic banking, finance and investment - chooses to respond to these changes may be a generation-defining moment. Can Islamic finance in Kuwait use this opportunity to become truly responsible, inclusive and ethical, while at the same time contributing to the country's growth and development? How can we as an industry ensure this is substance over form on a permanent basis? What opportunities do the UN Principles for Responsible Banking offer Islamic financial institutions in Kuwait? How can the core values of Islamic finance be further applied to sustainable and socially responsible finance and investment strategies? What is an accurate assessment of the situation with bank consolidation in Kuwait, and what will be the best course of action for the domestic Islamic banking industry? We ask a respected panel for a new roadmap to success for Islamic banking, finance and capital markets in Kuwait.

Issam Al Tawari
Founder and Managing Partner, Newbury Consulting

Cassim Docrat
Director, DDCAP (DIFC)

Dr Jamshaid Anwar Chattha
Former Assistant Secretary-General, IFSB

Mohammed Bader Al-Jouan
Senior Advisor – Banking Sector

Nitish Bhojnagarwala
Vice-President, Senior Credit Officer, Moody's Investors Service

Tariq Al-Rifai
CEO, Quorum Centre for Strategic Studies
Funding, Infrastructure, Capital Markets and Responsible Finance Initiatives in Kuwait
Are Sukuk still a viable option for Kuwaiti banks seeking to enhance liquidity and capital management, while diversifying funding sources? What can technology, particularly tools such as blockchain, offer capital market and asset management innovation in Kuwait? What more needs to be done to drive the issue of Shariah compliant tradeable securities, including Sukuk, in the country? What regulatory changes would be helpful and constructive toward this objective? How can Islamic finance mobilize in Kuwait to address the imminent challenges of the real economy and provide not just liquidity support, but solvency support to the corporate sector? How can sustainable and responsible investment make progress in Kuwait and can the UN Sustainable Development Goals be applied to the State's Islamic finance activities? Lastly, we examine the country's infrastructure requirements in the coming years and ask what can be funded through Islamic facilities, how can risk be effectively managed and do public-private partnerships offer a viable opportunity?

Abdulkader Thomas
Group CEO, SHAPE™ Knowledge Services

Ajai Thomas
Chief Financial Officer, Kuwait International Bank

Dr Hessah Al-Motairi
Assistant Professor, Department of Mathematics, Kuwait University

M.R. Raghu
Executive Vice President and Managing Director, Marmore Mena Intelligence

Noura Alabdulkareem
Head of Markets Sector, Boursa Kuwait
Advisory Board

Abdulkader Thomas
Group CEO, SHAPE™ Knowledge Services

Issam Al Tawari
Founder and Managing Partner, Newbury Consulting

Tariq Al-Rifai
CEO, Quorum Centre for Strategic Studies

Trevor Norman
Director – Islamic Finance and Funds Group, VG
Venue:

JW Marriott Kuwait City
Objectives of the Dialogues
The IFN Kuwait Dialogue will provide market players with an opportunity to come together and discuss how to advance and develop the Islamic Banking industry in Kuwait. The sessions will enable participants to share in-depth analysis, experiences, information and views that may be more appropriately discussed in a smaller, more exclusive environment. The Dialogues will also allow market players and regulators to provide bi-lateral feedback and suggestions on how the participation industry can be taken forward: what steps should be taken by regulators and how market players can assist.
For any inquiries contact us
Our team will be glad to answer any questions you may have about this event.