Indonesia's global leadership in sovereign Sukuk is undisputed, both in the local rupiah and dollar markets. It has even pioneered innovative solutions such as cash Waqf-linked Sukuk, digital retail Sukuk and green Sukuk.
Unfortunately, this enthusiasm for Shariah compliant paper has not really cascaded down to the corporate sector. As at the end of 2022, Indonesia, which had US$85 billion in outstanding government Sukuk, only held US$5 billion in outstanding corporate Sukuk, mostly denominated in the local currency.
Indonesian corporates in general are turning to conventional finance rather than the Islamic markets for their funding needs, especially for their offshore funding requirements.
This represents a missed opportunity especially as Indonesia's cross-border financing needs continue to grow exponentially as it fulfills its role as one of the world's main suppliers of various natural resources, and as Indonesian companies continue to expand their international geographical footprint, deepening their multicurrency financing needs.
These needs can be met through Islamic financing, which would be an ideal vehicle for Indonesian corporates to tap global liquidity. The question is, how?
The IFN Indonesian Corporate Development Initiative Forum in Jakarta this October will gather leading banks, international legal experts and global intermediaries to shed light on how Indonesian companies can raise Islamically in the most effective and cost-efficient manner.
The three-hour high-level private event will comprise of interactive expert panel discussions, case studies, presentations and keynote addresses focusing on Shariah compliant international capital raising method specifically for Indonesian corporates.
A comprehensive report will follow the event.
An exclusive, private event, focussing on raising awareness of the opportunities for Shariah compliant, Indonesian issuers raising non-Rupiah paper for their capital raising requirements.

In 2023 we returned to a full in-person program, with record numbers at many of our events – a sign of normality returning to the events industry.
For 2024 we have curated a fantastic lineup consisting of our regular leading events, a return to some markets after a short hiatus, and the introduction of two intriguing Islamic investment events.
We run a mixture of Forums and Dialogues throughout the year, depending on what each market responds best to. Essentially, they're very similar, with only the structure of the discussion being different. For a partner, there's no difference.
Our focus remains on delivering the best experience possible for delegates, speakers and partners.
What to look out for in 2024:
Awards Ceremonies: The IFN Awards are the most coveted in the industry and our two Awards Ceremonies in Dubai and Kuala Lumpur continue to gather the elite form the Islamic finance world.
Investor Forums: New for 2024, these two large-scale Forums in Dubai and Kuala Lumpur coincide with the launch of our new IFN Investor platform and will provide the perfect setting to discuss and debate the rapidly developing global Islamic investment space.
UK Forum: Europe's largest, longest running and most influential Islamic finance event will again return to the glorious Mansion House, under the patronage of the Lord Mayor of London. A truly global event, with key focusses on investment flows, sustainable, product development and Fintech.
Oman Forum: This is the only annual international Islamic finance event in the stunning Sultanate, and one not to miss if Oman is on your radar. Full regulatory support, and all local banks and intermediaries are in attendance.
Qatar Dialogues: In partnership with the Qatar Financial Centre, we'll continue the discussion on the development of Islamic finance in the State and its important role in the global markets.
Asia Forum: Our flagship event, the IFN Asia Forum is the largest Islamic finance focused event anywhere. Covering all markets and sectors in the region, if Asia is in your plans, this event is a must.
Indonesia Dialogues: Still the world's largest Muslim population with massive potential, this is the only international Islamic finance event in the island nation. Opportunities are rife and we're now witnessing seismic changes in the Islamic finance landscape.
Turkiye Dialogues: Returning to Istanbul with a physical event for the first time since 2019, we've been following from afar the phenomenal growth and development of the Islamic finance industry in the Republic. There's much to discuss and we'd be delighted if you joined us.
Saudi Arabia: Saudi Arabia remains the world's largest Islamic finance center and an important market for IFN. This marks our 12th KSA event where we'll be discussing and debating how the Kingdom can build on its dominance and the role Islamic finance will play towards Saudi Vision 2030.
Bahrain: Rounding off the year again in beautiful Bahrain for the World Islamic Finance Dialogues, in partnership with the Central Bank of Bahrain, we'll be reviewing the year just past, previewing the year ahead and discussing the global industry at large.
As always, all Forums will be recorded and posted online for all to view, and all events will be complemented by a comprehensive Post Event Review. .
We're excited for the new year and look forward to welcoming you to our events and assisting in the continued global growth of the Islamic financial markets.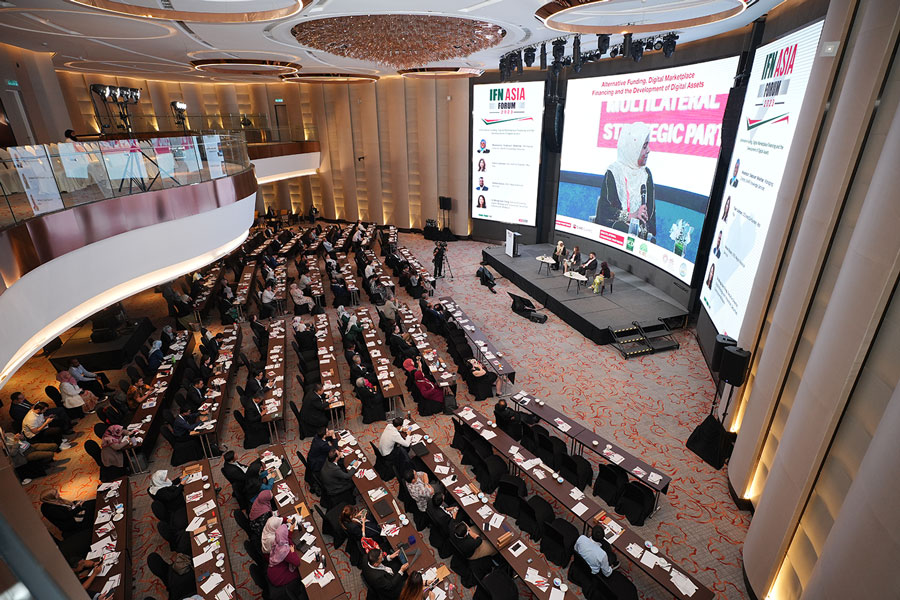 9.15 – 9.30
Introduction: Indonesian Corporate Finance
9.30 – 10.30
Panel One: Exploring Funding Routes for Indonesian Corporates
The Indonesian corporate finance market and how it has evolved.
Assessing funding options for Indonesian corporate issuers: capital markets vs bank financing vs alternative funding (P2P and equity crowdfunding).
Offering an overview of the legal, tax and regulatory environment for corporate capital raising in Indonesia.
Rupiah versus non-Rupiah denominated corporate financing and capital raising activities.
An introduction to the role of Shariah banking and finance in Indonesia: options for corporates.
An overview of liquidity in key Islamic markets and how it is driving demand from Islamic financial institutions for Shariah compliant paper.
10.30 – 11.00
Case Study: Islamic Green Corporate Issuance in Indonesia
11.30 – 12.30
Panel Two: Shariah Compliant Funding Options for Corporate Issuers in Indonesia
Shariah bank and syndicated financing versus the Islamic capital markets: comparisons and contrasts.
Islamic financing in Indonesia: an introduction to the non-Rupiah Islamic market and the options available to issuers.
Common non-Rupiah Sukuk structures and their applications for corporate issuers.
Balance sheet management: asset-based versus asset-backed structures, and Rupiah versus non-Rupiah.
Other key considerations for potential issuers: tenor, rating, risk management, credit enhancement, investor base.
The opportunities offered by Shariah compliant, non-Rupiah green, transition and sustainability linked capital raising products.
12.30 – 12.45
Presentation: Shariah Compliant Currency Hedging Tools for Corporates
REDmoney events designs, organizes and hosts industry-leading conferences, forums, roadshows, seminars and dialogues focusing on the Islamic financial markets across a global, regional and national level. Leveraging an exceptional network of the industry's elite and supported by the expertise of the REDmoney publishing and seminars divisions, REDmoney Events are able to provide access to a unique array of influential speakers, panelists and participants from a cross-section of the global industry to debate the most significant issues affecting the Shariah compliant financial markets.
REDmoney events are differentiated by their complimentary yet qualified attendance structure, ensuring the highest quality of both delegates and contributors. Comprehensive and cuttingedge, attendance ensures exclusive access to the leaders in their field across all sectors and markets.
The annual IFN Asia and IFN UK Forums are categorically recognized as their continent's leading industry events since their inception in 2006 and 2007, respectively. The Dialogues series have also become an integral element of the REDmoney events series and have cemented their position as leading, must-attend, events.
In 2024, we welcome the IFN Investor Forums, which coincide with the new IFN Investor portal.
For any inquiries contact us
Our team will be glad to answer any questions you may have about this event.