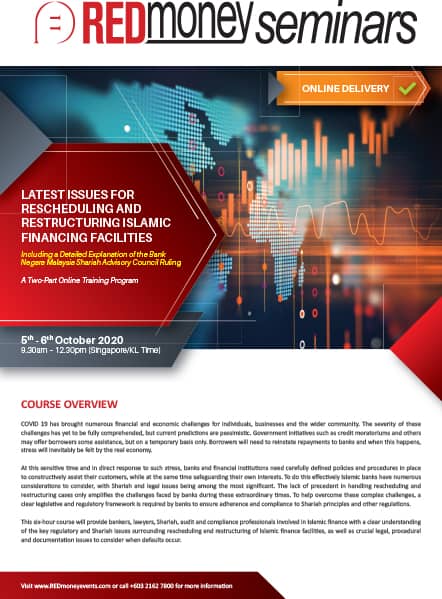 COVID 19 has brought numerous financial and economic challenges for individuals, businesses and the wider community. The severity of these challenges has yet to be fully comprehended, but current predictions are pessimistic. Government initiatives such as credit moratoriums and others may offer borrowers some assistance, but on a temporary basis only. Borrowers will need to reinstate repayments to banks and when this happens, stress will inevitably be felt by the real economy.

At this sensitive time and in direct response to such stress, banks and financial institutions need carefully defined policies and procedures in place to constructively assist their customers, while at the same time safeguarding their own interests. To do this effectively Islamic banks have numerous considerations to consider, with Shariah and legal issues being among the most significant. The lack of precedent in handling rescheduling and restructuring cases only amplifies the challenges faced by banks during these extraordinary times. To help overcome these complex challenges, a clear legislative and regulatory framework is required by banks to ensure adherence and compliance to Shariah principles and other regulations.

This six-hour course will provide bankers, lawyers, Shariah, audit and compliance professionals involved in Islamic finance with a clear understanding of the key regulatory and Shariah issues surrounding rescheduling and restructuring of Islamic finance facilities, as well as crucial legal, procedural and documentation issues to consider when defaults occur.

LEARNING OUTCOMES
Discuss the implications of COVID 19 on wider restructuring and rescheduling plans and policies for banks and financial institutions
Understand and review key guidelines and regulations on rescheduled and restructured financing, particularly in times of stress
Gain insight on the Shariah perspectives and issues regarding rescheduled and restructured financing, particularly in times of stress
Learn the legal procedures and issues in default
Understand the legal considerations in drafting documentation and its associated issues
Explanation of the Bank Negara Malaysia Shariah Advisory Council ruling and what it means for financial institutions
1 participant: RM995
2 participants: RM1990
3 participants: RM2985
4 participants: RM3980
5 participants: RM4975

Early Payment Discount: Payments made on or before 28th September will receive a 5% discount
* Further attractive packages are available for groups of more than five. Please contact us directly

If you are looking for an in-house training program or wish to send a group to an existing public program, kindly please contact Andrew Tebbutt at [email protected] or +603 2162 7802.
Learn More

For enquiries please contact:


Mathias Sosovele
Account Manager, REDmoney Seminars
[email protected]
Direct Line: +603 2162 7800 ext 25

Normariya Sariman
Account Manager, REDmoney Seminars
[email protected]
Direct Line: +603 2162 7800 ext 44

Ramesh Kalimuthu
Events Sales Director
[email protected]
Direct Line: +603 2162 7800 ext 65
Fax: +603 2162 7810

For sponsorship & speaking opportunities:

Andrew Tebbutt
Managing Director
[email protected]
Direct Line: +603 2162 7802

For marketing and media enquiries

Anna Rozana Ramli
Marketing Director
[email protected]
Direct Line: +603 2162 7800 ext 22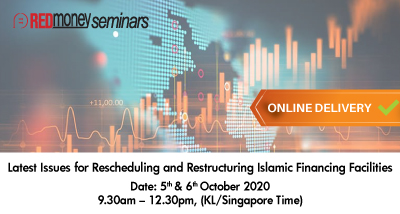 PROGRAM INTRODUCTION
COVID 19 has brought numerous financial and economic challenges for individuals, businesses and the wider community. The severity of these challenges has yet to be fully comprehended, but current predictions are pessimistic. Government initiatives such as credit moratoriums and others may offer borrowers some assistance, but on a temporary basis only. Borrowers will need to reinstate repayments to banks and when this happens, stress will inevitably be felt by the real economy.

At this sensitive time and in direct response to such stress, banks and financial institutions need carefully defined policies and procedures in place to constructively assist their customers, while at the same time safeguarding their own interests. To do this effectively Islamic banks have numerous considerations to consider, with Shariah and legal issues being among the most significant. The lack of precedent in handling rescheduling and restructuring cases only amplifies the challenges faced by banks during these extraordinary times. To help overcome these complex challenges, a clear legislative and regulatory framework is required by banks to ensure adherence and compliance to Shariah principles and other regulations.

This six-hour course will provide bankers, lawyers, Shariah, audit and compliance professionals involved in Islamic finance with a clear understanding of the key regulatory and Shariah issues surrounding rescheduling and restructuring of Islamic finance facilities, as well as crucial legal, procedural and documentation issues to consider when defaults occur.

LEARNING OUTCOMES
Discuss the implications of COVID 19 on wider restructuring and rescheduling plans and policies for banks and financial institutions
Understand and review key guidelines and regulations on rescheduled and restructured financing, particularly in times of stress
Gain insight on the Shariah perspectives and issues regarding rescheduled and restructured financing, particularly in times of stress
Learn the legal procedures and issues in default
Understand the legal considerations in drafting documentation and its associated issues
Explanation of the Bank Negara Malaysia Shariah Advisory Council ruling and what it means for financial institutions
AGENDA
Part One: 5th October
Today's Challenges and a Brief Reminder of Islamic Banking and Documentation (1 hour)
COVID 19: outlining the challenges faced by Islamic banks today and formulating responses
A reminder of key differences between conventional and Islamic banking
Legal documentation and Shariah requirements in times of stress
Real-life case studies illustrating challenges faced by banks today
A reminder of pertinent regulations and laws regulating restructuring of Islamic financing facilities
Practical Exercise: Rescheduling an Islamic Finance Facility (2 hours)
COVID response: rescheduling issues faced by Islamic banks
Key Shariah requirements of rescheduling facilities
Key documentation issues to be aware of
Calculation exercise: ensuring your institution undertakes precise calculation
Real-life case studies
Setting out internal policies defining circumstances and conditions for rescheduling facilities
Part Two: 6th October
Practical Exercise: Restructuring an Islamic Finance Facility (2 hours)
COVID response: restructuring issues faced by Islamic banks
Key Shariah requirements of restructuring facilities
Key documentation issues to be aware of
Calculation exercise: ensuring your institution undertakes precise calculation
Real-life case studies
Setting out internal policies defining circumstances and conditions for restructuring facilities
Briefing on the Latest Ruling from Bank Negara Malaysia Shariah Advisory Council (1 hour)
A reminder of BNM guidelines on rescheduled and restructured financing
Key features of the recent SAC Ruling relevant to rescheduling and restructuring Islamic finance facilities
Explanation of the ruling and what it means for financial institutions
Illustrations and real-life examples based around the ruling
Real-life case studies based around the ruling
EXPERT COURSE DIRECTOR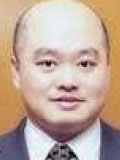 Dr. Mohd Johan Lee
Managing Partner, J Lee & Associates

Johan is the managing partner of J. Lee & Associates, a legal firm in Malaysia and a member of Primerus law, an international legal chambers group consisting of the finest law firms worldwide.

He graduated with LLB (Hons) degree from International Islamic University Malaysia. He also holds a Master of Comparative Laws degree, a post-graduate Diploma in Shariah and Legal Practice both of which from International Islamic University Malaysia, an MA in Economics for Competition Law from King's Collage London and a Ph.D. in Business and Commercial Law from Monash University Australia. He is currently a qualified member of the Chartered Institute of Arbitrators, UK as well as a mediator of the Malaysian Bar. He is an advocate and solicitor of the High Court of Malaya, the Shariah Court and the Supreme Court of Brunei.

He lectures part-time at several local law schools (namely IIUM for the LLM, Unisza and UM for the LLB programmes) and in the IiBF of IIUM for the MSc.in Islamic Banking programme. He also occasionally conducts in-house trainings to various Islamic banking institutions worldwide, governmental and semi-governmental institutions. He has lectured and provided training in the Institute Latihan Kehakiman (ILKAP) as well as Jabatan Kehakiman Syariah Malaysia (JKSM) for both civil courts and Shariah courts judges concerning Islamic banking. He has also trained the officers from BNM, and all local banks and several other central banks throughout the world on Islamic Banking. In 2006, he was a visiting scholar to the Asian Law Centre of the University of Washington. He is currently a shariah consultant to several governmental agencies as well as government-funded banks. Besides, he was a member of the Board of Studies of the Institute of Islamic Banking and Finance, International Islamic University Malaysia for the 2010-2012 tenure. He was also a member of the Board of Studies of the Faculty of Law of University Malaya for the 2015-2017 tenure. He was in the syllabus endorsement committee in for the INCEIF, and the CIMA. He is recently accredited as a senior trainer of the IBFIM and a trainer of the Associations of Shariah Advisors (ASAS), Malaysian Institute of Accountants (MIA) and the Institute of Internal Auditors Malaysia (IIA). He was on the committee of the law reform committee established by the Attorney General office. He has recently been awarded the prestigious award of Islamic Finance Expert by LEGALS FINEST International.

Johan is now a member of the Shariah Advisory Council (SAC) of the Association of Islamic Banks Malaysia (AIBIM). Also, he is a consultant to several law firms and practices in Malaysia, Brunei, Singapore, Indonesia and the UK. He has drafted and developed numerous Islamic banking legal documents and products in Malaysia and overseas. Johan is a director of the IIUM Shariah Advisory Services Sdn. Bhd.
WHO SHOULD ATTEND
This course is relevant to personnel in the functions of:
Retail, commercial and SME Islamic banking
Credit risk, administration and credit recovery
Credit control and collections
Accounts receivable
Operations
Compliance and audit
General and in-house counsel
Shariah risk, advisory, compliance and audit
PROGRAM FORMAT
This two-part training program will be delivered online through a stable, secure and free-to-access platform. The program itself will be delivered through lectures, worked examples and case studies in order to ensure a detailed and practical understanding of the program content. Participants will have plenty of opportunity to ask questions and interact with the program director. Login details and program materials will be sent to participants upon receipt of payment

For enquiries please contact:


Mathias Sosovele
Account Manager, REDmoney Seminars
[email protected]
Direct Line: +603 2162 7800 ext 25

Normariya Sariman
Account Manager, REDmoney Seminars
[email protected]
Direct Line: +603 2162 7800 ext 44

Ramesh Kalimuthu
Events Sales Director
[email protected]
Direct Line: +603 2162 7800 ext 65
Fax: +603 2162 7810

For sponsorship & speaking opportunities:

Andrew Tebbutt
Managing Director
[email protected]
Direct Line: +603 2162 7802

For marketing and media enquiries

Anna Rozana Ramli
Marketing Director
[email protected]
Direct Line: +603 2162 7800 ext 22