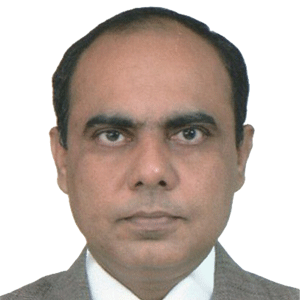 Ghulam Muhammad Abbasi
Director, Islamic Banking Department, State Bank of Pakistan
Ghulam Muhammad Abbasi is a career central banker having more than two decades of experience working in key policy and supervisory departments of the State Bank of Pakistan. Currently, he is leading the Islamic Banking Department where he has led initiatives for strengthening the legal, regulatory and Shariah governance framework for the Islamic banking industry. He has played an instrumental role in providing strategic direction through the development and implementation of strategic roadmaps rolled out at the national level for the Islamic banking industry.
Ghulam has also worked for the promotion of Islamic banking in the country through the transformation of conventional banking institutions into Shariah compliant businesses. He also played an important role in initiatives to create awareness among the different segments of society about Islamic finance and develop capacity to cater to the human resource requirements of the Islamic banking industry. The establishment of dedicated Centers of Excellence in Islamic Finance Education at three renowned academic institutions of the country is just one reflection of the initiatives in this regard.
Ghulam is part of the Technical Committee of the IFSB where, as the deputy chairman, he is effectively contributing toward the development of prudential standards on important and emerging topics of Islamic finance. He is currently also serving as ex-officio secretary of the Shariah Advisory Committee of the State Bank of Pakistan. During his tenure, the SBP was voted four times as the best central bank in promoting Islamic finance (2015, 2017, 2018 and 2020) by a poll conducted by Islamic Finance news. Moreover, Global Islamic Finance Awards also awarded the SBP the accolade of 'Best Central Bank of the Year 2020'.
Ghulam has represented the SBP at various high-profile local and international forums. He was recently appointed as the chairman of the Pakistan chapter of the UKIFC (Islamic Finance Council UK)-led Global Islamic Finance & UN SDGs Taskforce that has senior level representation of all leading banks. The working group provides a platform to share experiences for developing a uniform approach toward the sustainable finance agenda in the country.
Ghulam also previously served as the director of the Infrastructure, Housing & SME Finance Department, where he played a pivotal role in policy formulation ensuring the adequate supply of credit to the priority sectors including housing and SMEs. He also facilitated the establishment of Exim Bank of Pakistan and Pakistan Mortgage Refinance Company. He also played a pivotal role in formulating the 'Policy for Promotion of SME Finance' which was launched by the prime minister of Pakistan in December 2017.