Long referred to as the sleeping giant of Islamic finance, Indonesia is asleep no more and is blazing the trail for Shariah compliant finance and economy.
The world's most populous Muslim nation is aggressively harnessing its latent potential, with an impressive top-down approach rivaling the most sophisticated Islamic finance markets, mobilizing resources at a rate not seen anywhere else. With the President of the Republic at the helm of the National Islamic Finance Committee, numerous new policies and measures have been introduced to catapult itself to become a global center for Islamic finance and Halal economy.
Armed with a clear vision, robust measures, detailed multi-pronged and comprehensive Islamic economic masterplan, Indonesia has catapulted itself to the global stage with significant progress, and it has only touched the tip of the iceberg.
The introduction of pioneering instruments such as cash Waqf Sukuk and digital retail Sukuk as well as the tripartite merger of state-owned banks which culminated in an Islamic megabank, Bank Syariah Indonesia, are a few examples of how the Republic is breaking barriers to take its place on the global Islamic finance stage.
After 14 years of hosting the IFN Indonesia Forum, IFN is excited to bring the exalted IFN Dialogues Series to Jakarta in 2023. The high-level IFN Indonesia Dialogues will adopt a targeted approach to identify gaps and opportunities in the market to determine best way forward for Indonesia to further internationalize its capabilities with the help of local leaders and international experts.
WHAT THEY SAID
The efforts of IFN in bringing together sustainable elements in Islamic finance and in driving the panel discussion toward blitz-scaling the current efforts in Islamic finance were truly commendable. Over the course of the entire session, the focus was on identifying a common sustainability playbook in the existing Shariah compliant Islamic financial structure. During this session, we discussed the significance of regulators, market players and the trends influencing the implementation of ESG pillars for Islamic finance. Panel discussions concluded with discussions on strategies for driving and converging sustainability to Shariah compliant Islamic finance structures in the future.
The panel discussion on Islamic sustainable and responsible investing brought together a good blend of stakeholders from various aspects of the industry including Islamic finance, sustainable investing, ESG advisory, insurance, banking, legal and projects. This made the discussion very interesting and insightful, bringing different perspectives to the table.
This prestigious event carried out interesting discussions on the Islamic finance landscape in Saudi Arabia and provided business networking opportunities for industry stakeholders. The analytical insights shared by the panelists into the development, growth and challenges of its constituent sectors, including Islamic banking, Islamic capital markets, Waqf and Islamic fintech are thought-provoking. I congratulate the organizers for successfully hosting this event in the globally largest Islamic finance industry by asset size.
We enjoyed participation from lawyers, bankers, regulators and clients at IFN Dialogue Riyadh. The quality was impressive, thanks to the good reputation and skills of the organizers. Over time, these events make a difference; our industry adapts and changes because our professional community stays more coherent because of these events.
IFN has done it again. Getting together Islamic finance influencers to assure the free flow of ideas and information. This is how innovations in our field are born. Bringing in the financiers from GCC, Europe and Southeast Asia is a great recipe for the effective distribution of intellectual products. Kudos to the organizers for a perfectly assembled event
We were delighted to be back in the conference rooms in 2022 following a near two-year hiatus, and it seems you were too.
We saw capacity audiences for the UK, Asia and Islamic Sustainable Finance & Investment Forums, and strong numbers everywhere else. We believe 2023 will surpass pre-pandemic numbers in all our core markets.
We have also learned much this past year and will implement the following:
The Forum format is essential in certain markets, and will remain in London, Muscat and Kuala Lumpur in 2023.
Our exclusive Dialogues have been warmly welcomed by all those participating and attending, and we will increase this offering in 2023, with events in Dubai, Riyadh, Doha, Jakarta, and Manama.
Live streaming has not taken off as many expected. However, watching recorded content has skyrocketed — certainly for us anyway. So, all Forums will be recorded and posted online for our global audience within a week of each event.
But, as our audiences enjoy recorded content, we will be organizing various country and sector 'OnAir' events and posting online for all to view.
Islamic sustainable is big. Our ISFI Forum in Kuala Lumpur in 2022 was outstanding and will remain for 2023. And, with COP28 in the UAE in 2023, we are introducing the ISFI Dialogues, which will be held in Dubai.
We are excited for the new year and look forward to welcoming you to our events and assisting in the continued global growth of the Islamic financial markets.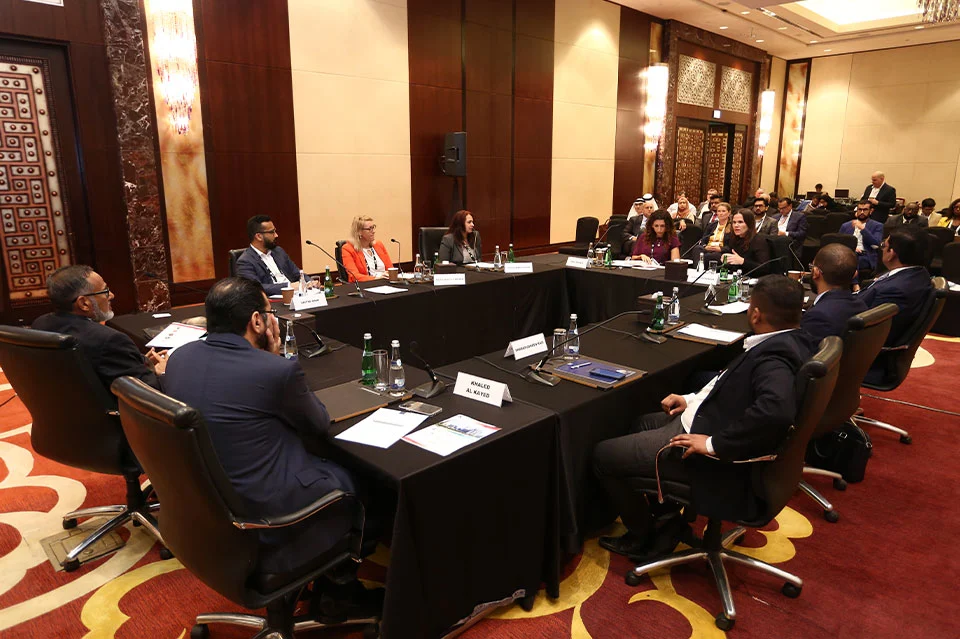 9.15 – 9.20
Welcome Address
9.20 – 9.30
Keynote Address
9.30 – 11.15
Dialogue One: Driving Indonesia's Economy - The Role of Islamic Financial Markets
What is a realistic assessment of today's Shariah compliant capital and financial markets in Indonesia?
How does the domestic regulatory environment allow for the growth of the Indonesian Islamic capital markets?
Could amendments be made to capital markets regulations, or could more be done by regulators? If so, what form would this evolution take?
Are Indonesia's Shariah compliant financial institutions in a favorable position in terms of liquidity and ongoing projects?
Developing the Islamic capital market in Indonesia: increasing market depth and liquidity, driving product innovation, and widening the investor base
Funding routes for Indonesian corporates: Islamic capital markets versus bank funding
How can Shariah compliant structures be further applied to the funding of projects and infrastructure in Indonesia?
How can Shariah compliant transition, sustainable and sustainability linked finance and investment products be further incorporated into the Indonesian market?
Are current tax and operational cost incentives sufficient to develop and grow a sustainable Islamic capital market? Which regulatory frameworks have been successful in the development of such schemes?
How do we continue to develop the process of measuring impact from green and sustainable issuance? What tools are available for issuers and investors for this purpose?
11.45 – 13.30
Dialogue Two: Achieving National Objectives through Shariah Banking - Innovation, Transformation and Digitalization
How have domestic bank mergers altered the Shariah banking sector, and is there the opportunity for further establishment of Islamic windows by conventional banks?
How does the domestic prudential banking regulatory environment allow for the growth of the Indonesian Shariah banking sector?
Could amendments be made to banking regulations, or more be done by regulators? If so, what form would this evolution take?
How are Indonesia's Shariah banks positioned in terms of liquidity and asset growth?
Do Tier-1 and Tier-2 Sukuk offer Indonesian Islamic banks the most flexible, efficient way of satisfying regulatory capital requirements?
What other funding options are open to Indonesian Islamic banks, and what liquidity management tools are available?
The digitalization of Islamic financial services: what is working and what is not, and what this means for the transformation of Islamic financial services in Indonesia
The new equilibrium for Islamic digital finance: transforming CX/UX, reducing cost, and delivering profitability
Does the digitalization of Islamic financial services allow us to better address product authenticity and minimize uncertainty?
Is it feasible to require Islamic banks in Indonesia to incorporate ESG frameworks as part of a wider Shariah banking philosophy?
How can Shariah compliant banking be applied to social impact initiatives in Indonesia, enriching lives through the advancement of financial inclusion, education, housing, health, culture and well-being?
13.45 – 15.15
Effectively Developing and Funding the Halal Economy through Shariah Compliant Finance
What represents an effective Halal economy and what are the regional and global opportunities on offer servicing, supplying, financing and managing this sector?
How large, potentially, is the Halal economy both domestically and internationally and how do we undertake effective sector value chain analysis?
What regulatory environment is conducive for the growth of Halal ecosystems, infrastructure and value and supply chains?
What role does technology play and how do government and regulators enable, promote and grow the Halal ecosystem?
How can Indonesia increase foreign direct investment into Halal goods manufacturing for both local consumption and export?
Where do Shariah compliant corporate, trade finance, forex, treasury and investment products play a role in the financing and development of the Halal economy?
How can Islamic finance build appeal and maintain competitiveness in this segment and how can trade and export opportunities be effectively financed and leveraged on?
What is the perception of Islamic finance among SMEs in Indonesia and what is the readiness of this vital sector in terms of adopting Islamic financial services?
When and how will the Shariah compliance of finance and funding sources be included as a prerequisite for Halal certification?
How are Islamic financial institutions positioning themselves to serve the corporate and SME sector, and what programs and initiatives are in place?
The Previous IFN Indonesia Forum
IFN Indonesia Forum 2022
This was the IFN 14th IFN Indonesia Forum.
Leveraging on our strong Indonesian ties and firm regulatory support built over a decade, the IFN Indonesia Forum was a high-level congregation of international and local stakeholders tackling the most pressing issues of Shariah finance through engaging discussions.
There was no denying Indonesia's Islamic finance potential. The opportunities its 225 million-strong Muslim population – the largest in the world – created along with the Republic's strong Shariah affinity were immense. Walking the talk, the Indonesian government had effectively mobilized resources, including a raft of regulations, to propel itself to become a global hub for the Halal economy and Islamic finance.
Armed with a clear vision, robust measures, detailed multi-pronged and comprehensive Halal economy masterplan, Indonesia had catapulted itself to the global stage with significant progress, and it had only touched the tip of the iceberg. The economic giant continued to harness its latent Islamic finance potential and the prospects were brighter than ever.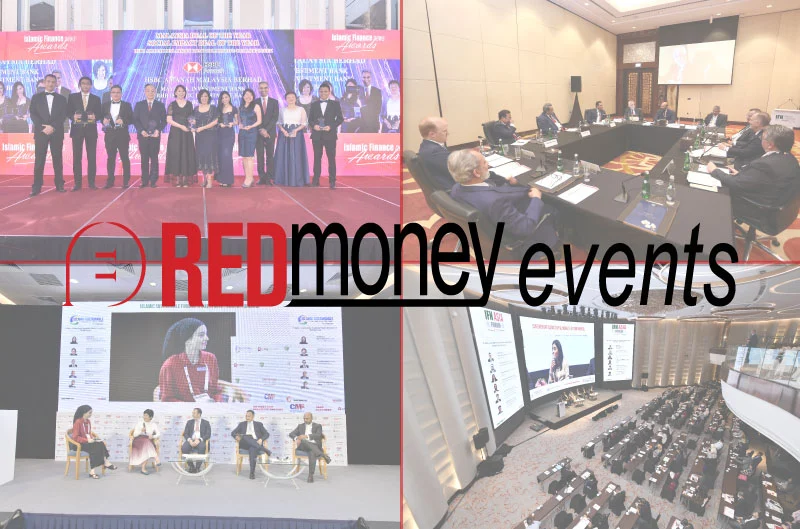 REDmoney events designs, organizes and hosts industry-leading conferences, forums, roadshows, seminars and dialogues focusing on the Islamic financial markets across a global, regional and national level. Leveraging an exceptional network of the industry's elite and supported by the expertise of the REDmoney publishing and seminars divisions, REDmoney Events are able to provide access to a unique array of influential speakers, panelists and participants from a cross-section of the global industry to debate the most significant issues affecting the Shariah compliant financial markets.
REDmoney events are differentiated by their complimentary yet qualified attendance structure, ensuring the highest quality of both delegates and contributors. Comprehensive and cutting-edge, attendance ensures exclusive access to the leaders in their field across all sectors and markets.
TThe annual IFN Asia and IFN UK Forums are categorically recognized as their continent's leading industry events since their inception in 2006 and 2007 respectively. The Dialogues series has also become an integral element of the REDmoney events series and have cemented their position as leading, must-attend, events. In 2022, we introduced the Islamic Sustainable Finance & Investment Forum, which was an enormous success, and will become a mainstay.
For any inquiries contact us
Our team will be glad to answer any questions you may have about this event.