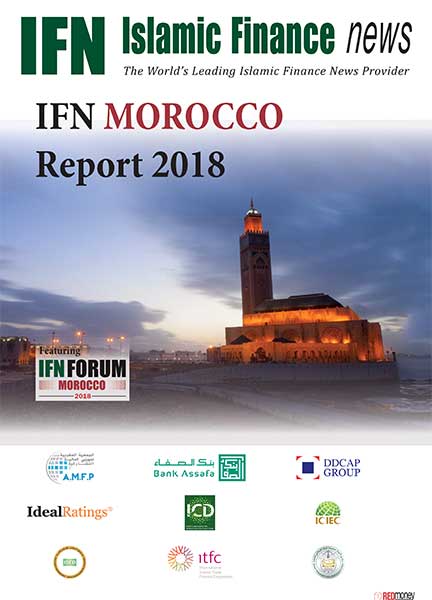 The participation finance (Islamic finance) industry is poised for growth in Morocco. Initiated back in 2014 with the vote of the participation finance bill, the development of an exhaustive regulatory framework aiming to accommodate all aspects of participation finance in Morocco reached a whole new level in 2017 when the eight banks that were granted licenses in January were finally allowed – seven months later – to offer Shariah compliant products. This major milestone was preceded by the inauguration of the banks' network of branches dedicated to participation finance activities, particularly throughout the first half of the year.

By developing a full set of regulations accommodating all aspects of the participation finance industry, the Kingdom has come a long way where participation finance is concerned. For participation banks, the top priority is certainly the introduction of Takaful but some market players have mentioned the need for an Islamic asset management industry while others are calling for the Casablanca Stock Exchange to be equipped with an Islamic equity index.

Following a successful edition in 2017, IFN Morocco Forum returns to Casablanca in April 2018 to provide industry players with an invaluable chance to explore the potential of this nascent yet promising market.
Presentation slides
Agenda
09:10 – 09:15
Welcome Remarks
09:15 – 09:30
Welcome Address
Said Amaghdir – Chairman, Moroccan Association for Participative Finance Professionals – Shari'ah Compliant (AMFP) and Director of Takaful projects at SAHAM Assurance
09:30 – 10:30
Islamic Finance, Investment and Banking in Morocco
Through a respected panel, we take a look at developments in regulation, banking, capital markets, funds, investment management and Takaful in Morocco. We assess the introduction of the 2017 Islamic banking regulations, the Shariah Committee for Participative Finance and the development of the Islamic banking ecosystem in the Kingdom.


Moderator:
Mohammad Farrukh Raza – Managing Director, IFAAS
Panelists:
Alain Verbeken – Director, Tax-Financial Services, Mazars Financial Advisory Services
Amal Souaifi – Head of Insurance Studies and Standardization, Moroccan Supervisory Authority of Insurance and Social Welfare
Ikhlas Mettioui – Head of Asset Management, Moroccan Capital Markets Authority
Mohamed Maarouf – General Manager, BTI Bank
Said Amaghdir – Chairman, Moroccan Association for Participative Finance Professionals – Shariah Compliant (AMFP) and Director of Takaful projects at SAHAM Assurance
Youssef Baghdadi – CEO, Bank Assafa


10:30 – 11:00
Coffee & Networking
11:00 – 11:45
Capital Markets, Investment Banking and Asset Management in Morocco
How can the issuing of Islamic capital market instruments in Morocco be simplified and what needs to be done to promote Sukuk tradability and an efficient secondary market? How can the REITS market be developed and grown in Morocco? What is the view of asset managers of Islamic capital market products?


Moderator :
Dr Sami As-Soulaimani – General Manager, IFAAS Casablanca
Panelists :
Houda Chafil – CEO, Maghreb Titrisation
Monem Salam – President and Fund Manager, Saturna
Noreddine Tahiri – CEO, AjarInvest
Rachid El Achhab – Chief Investment Officer, Wafa Gestion


11:45 – 12:30
Islamic Retail Banking and Takaful Roundtable
We ask a panel to discuss the environment for Islamic retail banking, wealth management and Takaful activity in Morocco. We examine Islamic product offerings and structures, as well as regulations and the roles of the Central Guarantee Fund and the Insurance Supervisory Authority. What sort of retail and Takaful products can we expect to see in Morocco?


Moderator:
Said Amaghdir – Chairman, Moroccan Association for Participative Finance Professionals – Shariah Compliant (AMFP) and Director of Takaful projects at SAHAM Assurance

Panelists:
Anass Patel – CEO, ConexCap
Fouad Harraze – Director-General, Al Akhdar Bank
Hounaida Boukhari – Managing Director, Dar Al Amane
Koudama Zeroual – General Manager, Takaful, Wafa Assurance
Dr Muhammad Ashfaq – CEO, Amanah Institute of Islamic Finance and Economics – Amanah IIFE

12:30 – 12:40
Presentation: Financial Technology and Islamic Finance in North Africa


| | |
| --- | --- |
| Presenter: | Rachid Ouaich – Co-Founder, ConexCap |

12:40 – 12:50
Presentation: Lines of Finance Products and Structures

| | |
| --- | --- |
| Presenter | Hamza Boukili – Senior Associate, Line of Finance Division – FIDD, The Islamic Corporation for the Development of the Private Sector |

12:50 – 13:30
Innovation in Islamic Finance in Morocco and Africa
We take a closer look at innovation in finance in Morocco and the region, and focus on important initiatives such as Islamic microfinance, sustainable/responsible finance, green Sukuk and education. What opportunities does the new legal framework governing collaborative financing activities (crowdfunding) offer?


Moderator:
Dr Mohamed Wail Aaminou – General Manager, Al Maali Consulting Group
Panelists:
Abderrahmane Lahlou – Expert in Participative Finance, ABWAB Consultants
Hissam Kamal Hassan – Research Fellow, International Shari'ah Research Academy for Islamic Finance (ISRA)
Khalil Labniouri – Commercial Director and Member of the Board, Bank Assafa
Mohammed Amine Sabibi – Financial Consultant and Coordinator of the Executive Master Principles and Practices of Islamic Finance, Casablanca – University Paris-Dauphine


13:30
Closing Remarks & End of Forum
13:35
Luncheon
14.30 – 17.00
The IFN Morocco Dialogue
Now in its third year, the highly acclaimed IFN Dialogue will once again bring together a select group of Morocco's leading Islamic finance industry practitioners and regulators to openly discuss the benefits and concerns facing the Shariah compliant financing and investment market today.

This thought-provoking exclusive closed-door session brings together the industry's elite with extensive knowledge of that particular market and industry regulators. The Morocco Dialogue will consist of local regulators and industry practitioners and international key players with a solid understanding of the local market but with an outsider's point of view.
Photo Gallery