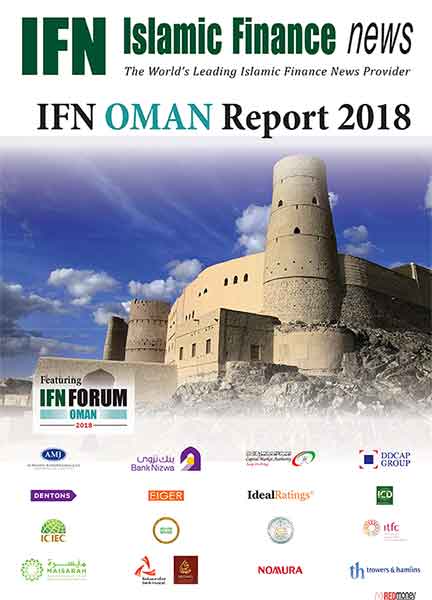 As one of the last GCC nations to join its peers in tapping the Islamic finance industry, Oman has been the hotbed of interest in the GCC region for investors and corporates alike for almost half a decade now. The development of the Islamic finance and banking industry has been an important contributor to the country's economic growth, with efforts to grow the sector being exercised frequently to compete with its neighbors.

Oman has had an impressive Islamic finance growth across multiple sectors in the past years. By the end of 2016, Shariah compliant shares worth OMR3.3 billion (US$8.54 billion) represented 21.58% of the total market capitalization of shares listed on the Muscat Securities Market. Sukuk outstanding of OMR329.48 million (US$852.92 million) took up 16.29% of the total market value of the fixed income market. In 2017, the sovereign issued its US dollar Sukuk, followed by the first Sukuk program by Meethaq. Meanwhile, the Takaful market's gross direct premiums of OMR42.06 million (US$108.88 million) represented 9.3% of the total insurance premiums in Oman. All these were achieved in about six years since Islamic finance was permitted in 2011 – a remarkable feat. The Sultanate's strong political will, as well as solid demand, is the driving force behind its success.

Nonetheless, there is still ample room for more development including continuous engagement between regulators and industry participants to discuss needs and enhance the regulatory infrastructure, better communication and alignment of procedures between regulatory and government bodies and continuous development in the human capital space.

After the success of IFN Oman Forum in 2017, the forum will once again return to Oman on the 13th March 2018. Having hosted the forum and dialogue with many groundbreaking sessions and an engaging debate in 2017, the event for 2018 will evolve into a forum with an expected larger number of participants, against the backdrop of further inroads that Oman has made in the industry thus far. Join market regulators and leading industry experts as they discuss the potential of this growing industry at IFN Oman Forum 2018.
Presentation slides
Agenda
09:00 – 09:15
Keynote Address
H.E Abdullah Salim Al-Salmi – Executive President, Capital Market Authority
09:15 – 09:30
Keynote Address
H.E Tahir Salim Al Amri – Executive President, Central Bank of Oman
09:30 – 10:30
Economic Development in Oman – Driving Growth through Islamic Banking, Capital Markets and Takaful
Through a respected panel, we offer an analysis of Islamic banking, finance and investment in Oman and how the recent and future development of Islamic retail banking, capital markets and Takaful can promote economic growth and expansion in the Sultanate.

Moderator:
Karl Jackson – Director, Africa, India and Middle East, Risk Advisory Services, EY
Panelists:
Ahmad Al Mamari – Vice-President, Insurance Sector, Capital Market Authority, Sultanate of Oman
Hasan Junaid Nasir – Head of Islamic Banking, Alhilal Islamic, Ahli Bank
Gautam Datta – CEO, National Takaful Company – Watania
Khalid Al Kayed – CEO, Bank Nizwa
Mohamed Said Al Abri – Vice President, Capital Market Sector, Capital Market Authority, Sultanate of Oman
Sulaiman Al Harthy – Deputy CEO, Meethaq Islamic Banking


10:30 – 11:00
Coffee and Networking
11:00 – 11:45
Sukuk, Capital Markets and Investment Banking in Oman
In a significant year that has seen Sovereign, bank and corporate Sukuk issuance, what is next for the Sultanate's Islamic capital markets? What factors play a role in successful deals and what more needs to be done to compete with conventional corporate finance options? How can large scale projects in Oman be financed using Shariah compliant structures and what can we expect to see from the Omani equity capital markets?

Moderator:
Qasim Aslam – Partner, Head of Islamic Finance – Middle East, Dentons
Panelists:
Asad Qayyum – Senior Associate, Al Busaidy, Mansoor Jamal & Co
Ata Ur Rahim Hanafi – Head, Corporate Islamic Banking, Sohar Islamic
Mohamad Noranuar Sajari – Head, Shariah Structuring, Bank Nizwa
Mohsin Shaik Sehu Mohammed – Head of Investment Banking and Capital Markets, Maisarah Islamic Banking Services
Salman Ahmed – Partner, Trowers and Hamlins


11:45 – 12:20
Investment Funds, Real Estate Finance and REITs in Oman
We ask a panel to discuss the Shariah compliant investment management environment in Oman, with a particular focus on the new REITs regulatory framework and what it means for the burgeoning real estate investment market.

Moderator:
Jeremy Ingham – Partner, Trowers and Hamlins
Panelists:
Kemal Rizadi Arbi – Expert/Advisor, Capital Market Authority, Sultanate of Oman
Mohammed Jalaluddin – Director and Vice-Chairman, Islamic and Ansar Co-operative Housing Corporation
Saifuddin Ahmed – Head of Asset Management, Almadina Investment
Trevor Norman – Director, VG
Zulhilmy Kamaruddin – Director, Group Client Coverage, Group Wholesale Banking, RHB Investment Bank


12:20 – 13:00
Preparing for the Future: Financial Technology in Oman and GCC Region
What does the advancement of technology mean for financial institutions in Oman and the Gulf region? We assess the latest developments in FinTech and analyse likely industry shifts, regulation and developments in product and delivery channels.

Moderator:
Majid Al Amri – CEO, Thawani
Panelists:
Chitrajit Chakrabarti – VP International Business, Monami Tech
David Testa – Executive Director, DDCAP Group
Manar Abbas – Head of Product Development, IFAAS
Mughees Shaukat – Head, Islamic Finance, College of Banking and Financial Studies
Salah Almajthoob – Managing Director, Jeyad Advisory
Salman Kabani – Head of Market Risk, Operational Risk and Strategy, Bank Nizwa


13.00
Closing Remarks and End of Forum
14.00 – 16.20
Student Workshop

14.00 – 14.05
Welcome Remarks
By

Salman

Kabani

, Head of Market Risk, Operational Risk and Strategy, Bank Nizwa



14.05 – 14.30
The Islamic Banking and Finance Industry – An Overview
By Mustafa Al Naabi, Assistant Manager of Shariah Training or Mundher Al Ghazali, Assistant Manager of Shariah Compliance and Structure, Bank Nizwa
14.30 – 14.55
The Islamic Retail Banking Market
By Arif Al Zaabi, Acting Head of Retail Banking – Bank Nizwa

14.55 – 15.20
Understanding the Islamic Capital Markets
Mohammed Sajari, Head of Sharia Structure – Bank Nizwa
15.20 – 15.45
Legal and Regulatory Issues in Islamic Finance
By Asad Qayyum, Senior Associate – Al Busaidy, Mansoor Jamal & Co
15.45 – 15.55
Closing remarks
15.55
End of Forum

14.00 – 17.00
The Oman Dialogue
Now in its third year, the highly acclaimed IFN Oman Dialogue will once again bring together a select group of Oman's leading Islamic finance industry's practitioners and regulators, to openly discuss the benefits and concerns facing the Shariah compliant financing and investment market today. This thought-provoking exclusive closed-door session brings together the industry's elite with extensive knowledge of that particular market and industry regulators. The Oman Dialogue will consist of local regulators and industry practitioners and international key players with a solid understanding of the local market but with an outsider's point of view.
Photo Gallery