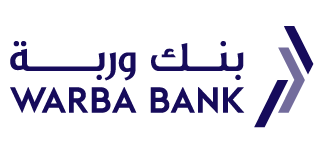 Warba Bank
Established in 2010, Warba Bank's mission is to be a world-class bank that offers the entire gamut of banking and investment services in compliance with Shariah principles. It aims to achieve growth by continuously innovating on product quality, offering customized solutions and service excellence thereby gaining the confidence of customers from various walks of life.
OUR VISION
To be an Islamic corporate and investment banking champion in Kuwait with a lean digitally enabled retail business.
OUR MISSION
Help our customers fulfill their life ambitions and grow their businesses by providing innovative financial solutions and outstanding experiences.
Provide our staff with rewarding growth opportunities and a healthy work environment.
Deliver steady, growing returns to our shareholders.