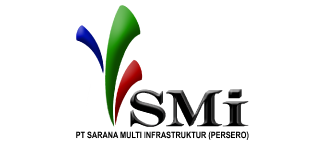 Sarana Multi Infrastruktur (PERSERO)
Sarana Multi Infrastruktur (SMI) is a company engaged in infrastructure project financing. Established on the 26th February 2009, SMI is a state-owned enterprise with its total capital shares owned by the Republic of Indonesia through the Ministry of Finance.
SMI was established with a mandate to be a catalyst for the acceleration of infrastructure development in Indonesia, and to support the implementation of public–private partnership schemes. The mandate focuses on two main objectives: optimizing the economic and social benefits for the communities, and supporting the achievement of the UN Sustainable Development Goals as well as mitigating climate changes.
Aligned with the shifting of assets and the function of the Government Investment Agency, SMI is able to finance the geothermal power plant infrastructure projects as well as provide financing for the regional government. SMI has obtained a sector expansion permit from the OJK, which covers financing for social infrastructure (hospitals, wet markets, terminals and others), tourism and rolling stocks.
Development efforts to expand SMI's services continued by providing Shariah products to accommodate the needs of Shariah financing, investment and advisory services. In addition, SMI also launched sustainable financing products to disburse infrastructure financing specifically for renewable new energy and energy conservation sectors.
SMI remains committed to support the government in infrastructure development and is currently actively participating in providing services to the government's infrastructure projects as set forth in the RPJMN, National Strategic Project and National Priority Project. SMI also cooperates with multilateral and donor institutions for funding, as well as with private entities for infrastructure project developments.
SMI supports inclusive infrastructure development across Indonesia. The financing for the regional government emphasizes on the development in areas in East Indonesia. SMI also focuses on sustainable infrastructure development by initiating environmental and social safeguards.