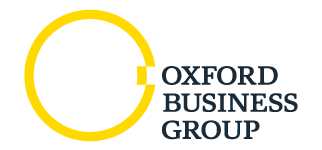 Oxford Business Group
Oxford Business Group (OBG) is a global research and consultancy company with a presence in over 30 countries, from the Middle East, Africa and Asia to the Americas. A distinctive and respected provider of on-the-ground intelligence on many of the world's fastest growing markets, OBG has offices in London, Berlin, Dubai and Istanbul, and a network of local bureaus across the countries in which we operate.
Through its range of products, OBG offers comprehensive and accurate analysis of macroeconomic and sectoral developments, including banking, capital markets, tourism, energy, transport, industry and ICT. OBG provides business intelligence to its subscribers through multiple platforms: Economic News and Views, OBG Business Barometer – CEO Survey, Roundtables and conferences, Global Platform – exclusive video interviews, The Report publications and its Consultancy division.