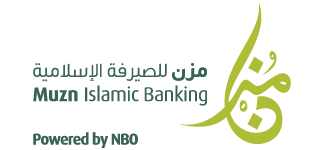 Muzn Islamic Banking
Part of the National Bank of Oman (NBO) Group, Muzn Islamic Banking is a licensed Islamic banking window operating in the Sultanate of Oman providing Shariah compliant financial solutions to customers.
Muzn's Shariah supervisory board comprises world-renowned scholars and is the highest authority for all Sharia related matters, ensuring Shariah compliance at all times and at all levels within the bank.
Muzn's corporate banking
At Muzn's corporate banking, we strive to understand our customer's business requirements by maintaining long-term, steady relationships. Our in-depth knowledge of the different industry sectors in the Sultanate of Oman has been built over the years. We also provide innovative Shariah compliant solutions that cover corporate finance, project finance, trade finance, capital and treasury products and retail banking services. Our dedicated team of relationship managers will match your business needs with Shariah compliant corporate banking solutions.
Our vision is to stand firm with our customers while identifying areas for growth and efficiency. We are able to suggest practical, cost-effective Shariah compliant methods to take advantage of the opportunities that have arisen with the introduction of Islamic banking in the Sultanate of Oman.
Muzn's retail banking
Muzn's retail banking provides a diverse range of Islamic banking solutions that allow our customers to fulfill their financial requirements — from buying a home to saving to securing their children's future.
Muzn's privilege banking
Privilege customers may enjoy the following benefits:
• Attractive profit rates on the Privilege Premium Account and Muzn Flexi Wakala Elite Account
• Muzn Privilege Platinum Debit Card
• Access to over 950 airport lounges worldwide, and
• Privilege merchant discounts and benefits.
Muzn's e-channels
Our digital banking solutions make Islamic banking even more convenient. Our channels include retail and corporate internet banking and mobile banking.
Muzn's CCDM facility
Muzn customers can deposit funds directly into their accounts through any of the NBO's 60 automated cash and cheque deposit machines (CCDMs) located across the Sultanate.