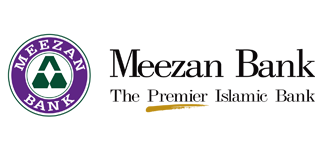 Meezan Bank
Meezan Bank, Pakistan's first and largest dedicated Islamic bank, is a publicly listed company with a paid-up capital of PKR10 billion (US$64.22 million). It is one of the fastest-growing financial institutions in the banking sector of the country. With its vision of establishing 'Islamic banking as banking of first choice…', the bank commenced operations in 2002, after being issued the first-ever Islamic commercial banking license by the State Bank of Pakistan.
VIS Credit Rating Company (formerly JCR-VIS Credit Rating Company) has reaffirmed the bank's long-term entity rating of 'AA+' and short-term rating of 'A1+' with a stable outlook. The rating indicates the sound performance indicators of the bank. Meezan Bank is the only fully-fledged Islamic bank with a 'AA+' credit rating in the Islamic banking industry in Pakistan.
The bank provides a comprehensive range of Islamic banking products and services through a retail banking network of over 820 branches in more than 240 cities across Pakistan.
Meezan Bank has also been awarded the industry's most prestigious recognition — 'The Best Bank for 2020 Award' — by Pakistan Banking Awards, the most prestigious awards in the country's banking sector. Two years ago, Meezan Bank had won this award for the first time. This award aims to holistically assess a bank on all aspects and is awarded to the bank that has demonstrated:
The most significant contribution to national development, and
The most effective management of its resources including employees, clients, franchise, community and finances.
Meezan Bank has one of the highest returns on equity in the banking industry for the past three years, averaging over 30%. The increase in the bank's stock's total return price has been 241% since 2015 with a compounded annual growth Rate of 27.9%. Over the same period, its stock also outperformed the benchmark index of the PSX 100 Index as well as the KMI 30 Index, demonstrating the strength of the bank and the confidence of its investors as well as the stock market in general.
Meezan Bank has also been ranked as the strongest bank in Pakistan by Balance Sheet Evaluation and the 36th-strongest among 500 banks in the Asia Pacific region in The Asian Banker's 2020 rankings, another solid reflection of its performance. Meezan Bank is, Alhamdulillah, a strong entity that provides excellent returns to shareholders and is indeed an investment of choice for them.