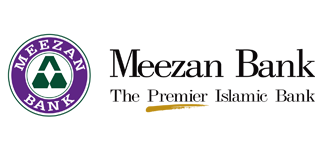 Meezan Bank
Meezan Bank is Pakistan's first and largest dedicated Islamic bank and is one of the fastest-growing financial institutions in the banking sector of the country. With its vision of "Establishing Islamic banking as banking of first choice…", the bank commenced operations in 2002, after being issued the first-ever Islamic commercial banking license by the State Bank of Pakistan.
JCR-VIS Credit Rating Company, an affiliate of Japan Credit Rating Agency, has upgraded the bank's long-term entity rating to 'AA+' and short-term rating to 'A1+' with a stable outlook. The rating indicates the sound performance of the bank. Meezan Bank is the only Islamic bank with a 'AA+' credit rating in the Islamic banking industry in Pakistan.
The bank provides a comprehensive range of Islamic banking products and services through a retail banking network of over 680 branches in over 180 cities across Pakistan. Backed by a state-of-the art T-24 core banking system, the branch network is supported by 24/7 banking services that include 725 ATMs, Visa and Mastercard debit cards, a call center, internet banking, a mobile banking application and an SMS banking facility.