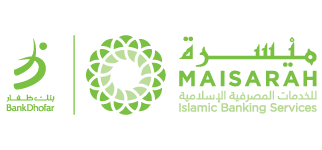 Maisarah Islamic Banking
Maisarah, the Islamic banking window of BankDhofar, is one of the fastest-growing Islamic banking entities in the Sultanate of Oman with total assets exceeding US$1.5 billion. Maisarah is enhancing its footprint with well-experienced business divisions with expertise in investment banking, treasury, wholesale banking, trade finance and retail banking.
Maisarah offers a diverse range of superior Shariah compliant products and services as part of its continuous commitment to fulfill the long-term goals of its stakeholders. Maisarah has grown tremendously since its inception and is strengthening its position with a strong performance track record and remarkable milestones in the Islamic finance market. In 2019, Maisarah grew its gross financing portfolio by 12.4% and customer deposits grew by 14.7%. In 2020, Maisarah continues its commitment to reach out to a larger customer base with upgraded systems, cutting-edge technology and state-of-the-art financial and investment solutions.
In recognition of the achievements, Maisarah has won many accolades since its inception, including the 'Best Islamic Bank in Oman' at the Middle East Banking Award Finance's Achievement Awards and 'IFN Oman Deal of the Year Award 2018'.
With a focus on the future, Maisarah is already enhancing its technological capabilities, digitalization, transformation and aggressive expansion of its channels to meet growing customer needs and expectations.