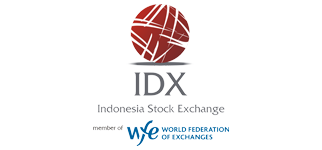 Indonesia Stock Exchange
Indonesia Stock Exchange is party that organizes and provides the system and facilities that are used to bring together offers of those who intend to buy and sell Securities.
Our Vision:
To become an Acknowledge and Credible World-Class Exchange.
Our Mission:
Provide infrastructures to enable fair, orderly, and efficient securities trading whilst accessible to all stakeholder.
Core Values of IDX are Teamwork, Integrity, Professionalism and Service Excellence. Core Competencies of Our Company are Building Trust, Integrity, Strive for Excellence and Customer Focus.
Indonesia Stock Exchange (IDX) shall be founded for the purpose of organizing an orderly, fair and efficient trading market for securities. To achieve the purposes, IDX must Supervise Members activities and provide them with facilities. IDX must submit an annual budget and profit utilization plan to OJK according to OJK rules.