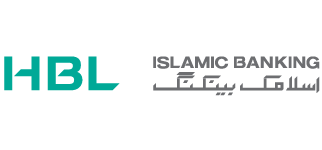 Habib Bank
HBL, Pakistan's largest bank, was the first commercial bank to be established in Pakistan in 1947. Over the years, HBL has grown its branch network to over 1,600 branches and over 2,100 ATMs globally, serving 14 million customers and clients.
HBL Islamic Banking is one of the leading players in the sector, with over 540 branch outlets nationwide. By providing a wide range of Shariah compliant investment and financing solutions to its diverse clientele, HBL Islamic Banking plans to expand itself to a full-service Islamic bank and become the most preferred for customers. All the Islamic products offered by HBL are approved by the bank's Shariah board, which comprises renowned Shariah scholars of Pakistan.
HBL Islamic Banking is committed to introducing innovative products and initiatives for its valued customers, with a vision to be the preferred choice for the banking fold to fulfill all their banking needs.