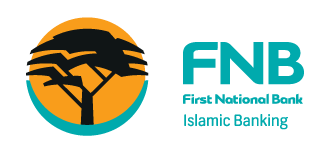 FNB Islamic Bank
FNB is the oldest bank in South Africa, and its roots can be traced back to 1838. When looking at FNB's history, two things in particular stand out. The first is a story of survival — different circumstances in South Africa have posed many great challenges in our history, all of which FNB has successfully met. This track record provides a strong foundation for our future challenges. The second is a story of people — our history has always been firmly influenced by the needs of the people we serve.
The Acacia tree in our brand logo is a suitable representation of our history. Our roots run deep in South Africa, and we have grown thanks to our commitment to serving the needs of our clients and communities; this is evident in the fact that FNB was the first of the four large banks in South Africa to open an Islamic banking window and offer Islamic banking to South Africa's minority Muslim population which roughly constitutes just 2% of the total population.
Islamic banking products can be found in each of the franchises that make up FirstRand Bank. In totality, the bank covers a large spectrum of Islamic banking and financial service offerings, including Islamic retail and business banking, Islamic corporate and merchant banking, Islamic vehicle and equipment finance, Islamic trusts and wills and bespoke Islamic equity trading options.
FNB Islamic Banking fosters that spirit of continued innovation and, as a business unit, it won the 2017 finals of the bank's Group Innovation competition with its entry 'Islamic Treasury Solution'. In 2017, the Islamic banking unit was also declared as the 'Best Niche' business offering by FNB Business Banking. In order to keep pace with the industry, FNB Islamic Banking is continually innovating its products and services to remain competitive within the market and to manage customer expectation. FNB Islamic Banking was also named by Islamic Retail Banking Awards as the strongest Islamic retail bank in South Africa for 2015 and 2016.
FNB Islamic banking's expansion into the rest of Africa is a key priority for the group. A large majority of the countries that FNB currently operates in have large Muslim populations and are well poised to offer Islamic financial services. We currently offer Islamic retail and business banking in Botswana and are in the process of expanding the offerings to other potential demographics.