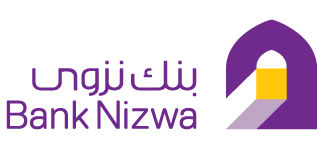 Bank Nizwa
Bank Nizwa started operations in January 2013 to offer the people of Oman a unique banking experience that combines Shariah compliant products and services with today's dynamic financial requirements. Bank Nizwa's strategy was built on innovation, service excellence and continuous development and growth. Catering to the people of Oman with an unmatchable banking experience, Bank Nizwa effectively combines Shariah compliant products and services with today's dynamic financial needs.
Closing in on six years as Oman's go-to reference of Islamic finance and banking, Bank Nizwa has witnessed steady growth in its customer base as more people seek an alternative solution to conventional banking. With the concept of Islamic banking gaining momentum in Oman, Bank Nizwa continues to offer reliable competitive propositions for customers looking to lead financially-secure lifestyles.
In tandem with its ongoing strategy to bring Islamic banking to customers' doorsteps and fingertips, the bank currently offers a suite of financing, savings and investment products for individual customers. The bank has also expanded its services to cater to SME, corporate and commercial customers, while providing tailored products for the segments of investment banking and global markets. With innovation at the forefront of its successful operations, Bank Nizwa has been consistently introducing forward-thinking products and services such as its online and mobile banking solutions.
To date, Bank Nizwa has focused on expanding its reach across the Sultanate and raising awareness on the benefits of Islamic finance with a network of 13 branches located in Qurum, Al Ghubrah, Al Khoudh, Nizwa, Ibra, Sumail, Sohar, Salalah, Sur, Barka, Buraimi, Ma'abela and Al Khuwair.
Guided by the principles of Shariah and a firm dedication to give back, Bank Nizwa has taken a leading role in promoting the social development of local communities. Since its inception, Bank Nizwa's Masoliyati program has successfully served as a volunteering platform founded under the theme of 'Responsibility'.
The bank's long list of awards includes more than 25 local, regional and international awards over the years, including the 'Strongest Islamic Retail Bank' award in the Sultanate at the Islamic Retail Banking Awards 2018 for the fourth consecutive year, the 'Islamic Bank of the Year' award by the leading Corporate Livewire Finance Awards and the 'Excellence in CSR in Islamic Finance' award at the regional Corporate Social Responsibility in Islamic Finance Conference and Awards ceremony, to name but a few.