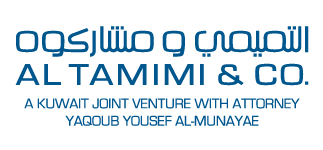 Al Tamimi & Co
Al Tamimi & Company is the largest law firm in the Middle East with 17 offices across nine countries. The firm has unrivaled experience, having operated in the region for over 25 years. Our lawyers combine international experience and qualifications with expert regional knowledge and understanding.
We are a full-service firm, specializing in advising and supporting major international corporations, banks and financial institutions, government organizations and local, regional and international companies. Our main areas of expertise include arbitration and litigation; banking and finance; corporate and commercial; intellectual property; real estate; construction and infrastructure; and technology, media and telecommunications. Our lawyers provide quality legal advice and support to clients across all of our practice areas.
Our business and regional footprint continues to grow, and we seek to expand further in line with our commitment to meet the needs of clients doing business across the Middle East. For more details on the firm, please visit www.tamimi.com.