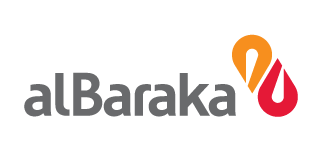 Al Baraka
AL BARAKA BANK
A Member of Al Baraka Banking Group
The benefits of Shariah compliant banking is gaining momentum in South Africa.
Established in Durban in 1989, Al Baraka Bank is the country's only fully-fledged Islamic bank, pioneering Shariah compliance here and providing banking which adheres to Islamic economic precepts.
Bahrain-based Al Baraka Banking Group (ABG), of which Al Baraka Bank in South Africa is a subsidiary, is a world-leading Islamic banking enterprise, operating in 17 countries. With a net income of US$217 million and total assets topping US$23.4 billion in 2018, ABG is positioned to maximize this market's growth.
Al Baraka Bank South Africa provides communities with a practical and sustainable alternative to conventional banking. With its head office in Durban, its national footprint comprises seven retail branches, three corporate banking offices and a professional and regional office, delivering a commercial bouquet of Shariah compliant products. ABG's 64.5% shareholding in the bank makes it an integral part of the international group. This linkage, coupled with its own growth trajectory, has positioned Al Baraka Bank at the cutting-edge of Islamic banking in South Africa.