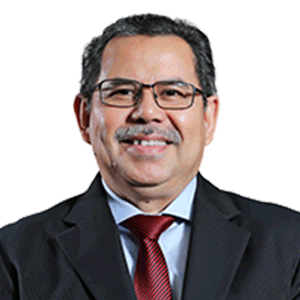 Professor Azmi Omar
President and CEO, International Centre for Education in Islamic Finance (INCEIF)
Professor Dr Mohd Azmi Omar is the president and CEO of the International Centre for Education in Islamic Finance (INCEIF) – The Global University of Islamic Finance. Prior to his current position, he served as the director-general at Islamic Research and Training Institute (IRTI), IsDB Group, Jeddah in the Kingdom of Saudi Arabia. At IRTI, Dr Azmi pioneered and introduced an innovative policy research which culminated in flagship reports such as the IRTI Islamic Social Finance Report and the IsDB-World Bank Global Report on Islamic Finance. Dr Azmi has also provided advice and technical assistance in Islamic finance to several IsDB member countries.
Dr Azmi was a member of the board of trustees of Responsible Finance Institute Foundation and External Advisory Group for the IMF Interdepartmental Working Committee on Islamic Finance. He was awarded 'The Most Outstanding Individual Contribution to Islamic Finance' accolade at the KLIFF Islamic Finance Awards 2015.
Dr Azmi has held numerous positions at International Islamic University Malaysia, including deputy rector (academic and research), dean of Institute of Islamic Banking and Finance and dean of Faculty of Economics and Management Sciences. He serves as a member of the Shariah committees of Bank Rakyat Malaysia and Etiqa Takaful Malaysia, and as an Islamic finance expert to Autoriti Monetari Brunei Darussalam. Recently, he led a team that developed the Indonesia Shari'ah (Islamic) Economy Masterplan 2019–2024 for the government of Indonesia.
Dr Azmi holds a Bachelor of Science (Finance) degree and an MBA from Northern Illinois University in the US and a PhD in finance from Bangor University, Wales in the UK. He is also a holder of the Chartered Professional in Islamic Finance qualification.