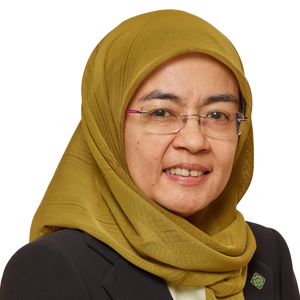 Azleena Idris
Director, Corporate Services Division, PayNet
Azleena Idris is currently the director of the Corporate Services Division of Payments Network Malaysia or PayNet Malaysia, the national payments infrastructure provider for Malaysia. She joined PayNet Malaysia on the 1st August 2019 where she heads corporate planning, group procurement, legal, governance, rules as well as corporate communications and marketing communications departments.
With over two decades of combined experience both as a regulator and in the financial services sector, Azleena played an instrumental role in a number of national and international initiatives, including the 2nd Financial Sector Master Plan, Malaysia as an international financial center, Islamic Financial Services Act 2013, International Islamic Liquidity Management Corporation, the founding of RHB Islamic Bank and merger and acquisition exercises involving RHB Group.
Prior to PayNet, Azleena spent a brief stint as the general counsel of an Islamic bank during which the bank won a landmark Islamic finance case. Before that, she was with Bank Negara Malaysia with primary responsibilities in Islamic financial infrastructure development strategies for over a decade and RHB Capital for close to 10 years where she held a senior legal position and was also the joint company secretary of Rashid Hussain, the ultimate listed parent company. She is also a short-term expert at both the IMF and World Bank.
Apart from being trained and qualified as a lawyer in England, Azleena has a Global Executive MBA jointly awarded by the London School of Economics and Political Science, New York University Stern School of Business and HEC Paris. She is a chartered Islamic finance professional, conferred by the Chartered Institute of Islamic Finance Professional where is she sits on the Professional Education and Academic Committee and International Chapter Committee. She was also a board member of the professional body from 2018 to 2020.