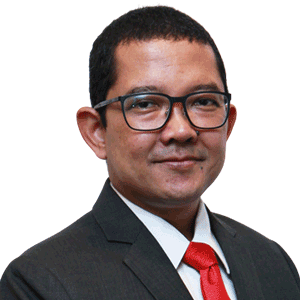 Ahmad Shahriman Mohd Shariff
CEO, Group Islamic Banking, CIMB Islamic Bank
Ahmad Shahriman is CEO of CIMB Islamic Bank with over two decades of experience in the corporate sector, of which 16 years were in Islamic banking and finance-related roles. He has been a key contributor in the development of the Islamic banking and finance industry, with a primary focus on capital markets and treasury solutions.
Ahmad headed wholesale banking at HSBC Amanah Malaysia as a director, and prior to that he served as the head of Islamic banking at Citibank. In these roles, he was tasked with building the Islamic wholesale banking and treasury businesses globally, in which he gained strong leadership, technical, legal and risk management expertise from his stint in these cross-border institutions.
Ahmad played an active role in the development of Malaysia's Islamic banking industry, with a long-standing role in the treasury committee of the Association of Islamic Banking and Financial Institutions Malaysia. In this capacity, he was involved in key industry initiatives such as developing, among others, a commodity exchange for Islamic finance purposes, Islamic structured products, documentation standards for Islamic derivatives as well as Islamic credit support mechanisms.
Prior to joining the banking industry via Citibank's Management Associate program, Ahmad was in the oil and gas industry for four years while serving his scholarship bond with a Malaysian conglomerate.