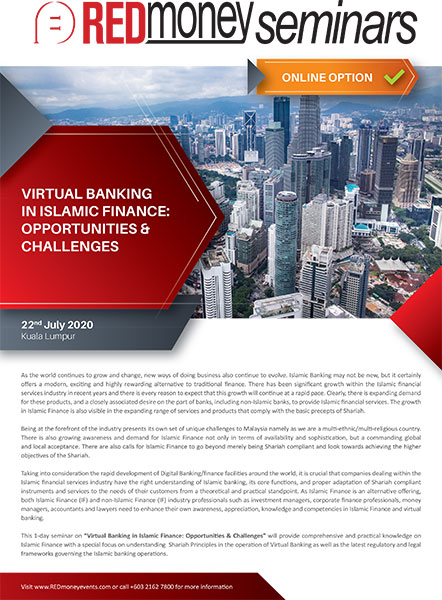 Course Background
As the world continues to grow and change, new ways of doing business also continue to evolve. Islamic Banking may not be new, but it certainly offers a modern, exciting and highly rewarding alternative to traditional finance. There has been significant growth within the Islamic financial services industry in recent years and there is every reason to expect that this growth will continue at a rapid pace. Clearly, there is expanding demand for these products, and a closely associated desire on the part of banks, including non-Islamic banks, to provide Islamic financial services. The growth in Islamic Finance is also visible in the expanding range of services and products that comply with the basic precepts of Shariah.

Being at the forefront of the industry presents its own set of unique challenges to Malaysia namely as we are a multi-ethnic/multi-religious country. There is also growing awareness and demand for Islamic Finance not only in terms of availability and sophistication, but a commanding global and local acceptance. There are also calls for Islamic Finance to go beyond merely being Shariah compliant and look towards achieving the higher objectives of the Shariah.

Taking into consideration the rapid development of Digital Banking/finance facilities around the world, it is crucial that companies dealing within the Islamic financial services industry have the right understanding of Islamic banking, its core functions, and proper adaptation of Shariah compliant instruments and services to the needs of their customers from a theoretical and practical standpoint. As Islamic Finance is an alternative offering, both Islamic Finance (IF) and non-Islamic Finance (IF) industry professionals such as investment managers, corporate finance professionals, money managers, accountants and lawyers need to enhance their own awareness, appreciation, knowledge and competencies in Islamic Finance and virtual banking.

This 1-day seminar on "Virtual Banking in Islamic Finance: Opportunities & Challenges" will provide comprehensive and practical knowledge on Islamic Finance with a special focus on understanding Shariah Principles in the operation of Virtual Banking as well as the latest regulatory and legal frameworks governing the Islamic banking operations.

For enquiries please contact:


Mathias Sosovele
Account Manager, REDmoney Seminars
[email protected]
Direct Line: +603 2162 7800 ext 25

Normariya Sariman
Account Manager, REDmoney Seminars
[email protected]
Direct Line: +603 2162 7800 ext 44

Ramesh Kalimuthu
Events Sales Director
[email protected]
Direct Line: +603 2162 7800 ext 65
Fax: +603 2162 7810

For sponsorship & speaking opportunities:

Andrew Tebbutt
Managing Director
[email protected]
Direct Line: +603 2162 7802

For marketing and media enquiries

Tiviaa James
Marketing Executive
[email protected]
Direct Line: +603 2162 7800 ext 62
Course Background
As the world continues to grow and change, new ways of doing business also continue to evolve. Islamic Banking may not be new, but it certainly offers a modern, exciting and highly rewarding alternative to traditional finance. There has been significant growth within the Islamic financial services industry in recent years and there is every reason to expect that this growth will continue at a rapid pace. Clearly, there is expanding demand for these products, and a closely associated desire on the part of banks, including non-Islamic banks, to provide Islamic financial services. The growth in Islamic Finance is also visible in the expanding range of services and products that comply with the basic precepts of Shariah.

Being at the forefront of the industry presents its own set of unique challenges to Malaysia namely as we are a multi-ethnic/multi-religious country. There is also growing awareness and demand for Islamic Finance not only in terms of availability and sophistication, but a commanding global and local acceptance. There are also calls for Islamic Finance to go beyond merely being Shariah compliant and look towards achieving the higher objectives of the Shariah.

Taking into consideration the rapid development of Digital Banking/finance facilities around the world, it is crucial that companies dealing within the Islamic financial services industry have the right understanding of Islamic banking, its core functions, and proper adaptation of Shariah compliant instruments and services to the needs of their customers from a theoretical and practical standpoint. As Islamic Finance is an alternative offering, both Islamic Finance (IF) and non-Islamic Finance (IF) industry professionals such as investment managers, corporate finance professionals, money managers, accountants and lawyers need to enhance their own awareness, appreciation, knowledge and competencies in Islamic Finance and virtual banking.

This 1-day seminar on "Virtual Banking in Islamic Finance: Opportunities & Challenges" will provide comprehensive and practical knowledge on Islamic Finance with a special focus on understanding Shariah Principles in the operation of Virtual Banking as well as the latest regulatory and legal frameworks governing the Islamic banking operations.
Seminar Agenda
08:30 – 09:00
Registration and Coffee

09:00 – 10:30
Session One: Virtual Banking: Grasping Concepts and Key Operational Features within the Current Financial Landscape
Internet banking, mobile banking and traditional face-to-face services
Identifying key areas across Virtual Banking and Islamic Finance:
Development progress and scope of operation
Distinguishing between e-banking, mobile banking, face-to-face banking and the virtual platform
10:30 – 11:00
Coffee & Networking Session

11:00 – 12:30
Session Two: Applying the Relevant Shariah Governance Framework, Policy Documents and Related Acts Concerning Virtual Banking
Comprehending the relevant Shariah Governance 2020 and IFSA 2013 framework
Analyzing the Licensing Framework for Digital Banks – Exposure Draft 2020
Application procedures for new licenses or financial holding company
14:00 – 15:30
Guest Speaker Presentation: Focusing on the Digital Banking Scene in Malaysia and the Asian Continent
Recognizing the emerging digital banks in Asia and key innovation strategies
Conducting a deep dive discussion on digital bank licenses in Malaysia:

Licensing Framework for Digital Banks – Exposure Draft 2020
Key winning perspectives

Providing a snapshot on the evolving global banking scene:

What does it mean for Malaysia?
How should we prepare ourselves?
Gopal Kiran: ASEAN FinTech Leader, EY

15:00 – 16:15
Session Three: Shariah Positioning and Leveraging from Existing Dual-Banking Framework for Effective Implementation
Virtual Banking from a Shariah perspective
Highlighting prohibited elements in Islamic transactions, Aqad components and the unique Shariah Technology Risk.
Recognizing the commonly used Shariah contracts in both deposits and retail financing products
Reviewing the common Shariah-compliance deposit and financing products
Identifying how Islamic Banking suits the Virtual Banking in a dual-banking structure
16:15 – 16:30
Coffee Break & Networking Session

16:30 – 17:30
Session Four: Shariah and Technology: Common Issues and Challenges in Operationalization of Its Principles in the Virtual World
Digitalizing Shariah rules and parameters via Artificial Intelligence (AI) for basic and routine processes
Focusing on talent development in Shariah, Banking & Information Technology
Dealing with Issues & Challenges in Virtual Banking
Q&A
EXPERT COURSE DIRECTOR




Hj. Abdul Rahman Mohd. Yusoff (CPIF, MIM-CPT )
Head, Islamic Product & Business Development, OCBC Al-Amin Bank Berhad, Deputy President, Grand Councillor of CIIF (Chartered Institute of Islamic Finance Professional)

In 2008, Hj. Abdul Rahman joined OCBC Al-Amin. Prior to his present position, he had served the Business Banking and also as Head of the Shariah Department from 2013 to March 2019. Reporting direct to the CEO, his current job functions encompass the Islamic products, business development and Learning development of the bank and the OCBC group.

He began his career in the banking industry in 1981 as a Credit Officer at CIMB Bank (formerly known as Bumiputra-Commerce Bank Berhad). During his 22 years there, his banking exposure extends from retail, commercial to international banking as Assistant General Manager, Hong Kong branch from 1997 to 2001. After leaving CIMB in 2005 and prior to joining OCBC Al-Amin, Hj. Abdul Rahman also worked at two other Financial Institutions at management level namely Bank Islam Malaysia Berhad and Cagamas Berhad.

Hj. Abdul Rahman is active in the Islamic Finance industry and often being invited as guest speaker at seminars and trainings. He is also a part-time lecturer at INCEIF for the Master Islamic Finance Practices (MIFP) program. He is currently the Deputy President & Grand Councillor of CIIF (Chartered Institute of Islamic Finance Professional). CIIF is a professional body tasked with the role of setting global quality professional standards for Islamic Finance practitioners. Hj. Abdul Rahman is a graduate in MSc. Islamic Finance and Chartered Islamic Finance Professional (CIFP) from INCEIF and also having an MBA and BSc. in Finance from USA.
GUEST SPEAKER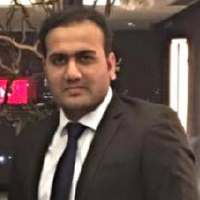 Gopal Kiran
ASEAN FinTech Leader, EY

Gopal works as the ASEAN FinTech Leader and part of the Financial Services team in EY Malaysia. He holds a decade of diversified consulting experience of working with global fortune Banking, Financial Services, Insurance and Technology companies based in USA, Europe, Middle East and Asia Pacific (Malaysia, Thailand, Vietnam and Philippines). Gopal brings a unique expertise of cards and payments, mortgages, wallets, general insurance, capital markets, loyalty on the domain side and business strategy, innovation consulting, digital transformation and IT advisory on the competencies. In his current role, he is leading multiple FinTech initiatives in ASEAN and supporting teams in Russia, Poland, Middle East and North Africa regions.

Gopal is an MBA graduate from the Premier business school of USA (HULT International Business School) and is also an active speaker in the region having spoken so far in 90+ conferences on diversified forums and topics. A few of his recent presentation subjects include Financial Inclusion strategy, Open API and Platform based business models, Blockchain, Artificial Intelligence (AI), Banking Innovations and Islamic Fintech. He is also part of the incumbent FinTech members in ASEAN and an architect of multiple FinTech solutions having successfully taken those solutions to various different markets. Gopal has represented the firm on multiple digital and fintech forums and is very proactive in establishing relationships within the industry ecosystem (Central banks, FI, FinTech, VC's, etc) and managing alliances to the firm.

For enquiries please contact:


Mathias Sosovele
Account Manager, REDmoney Seminars
[email protected]
Direct Line: +603 2162 7800 ext 25

Normariya Sariman
Account Manager, REDmoney Seminars
[email protected]
Direct Line: +603 2162 7800 ext 44

Ramesh Kalimuthu
Events Sales Director
[email protected]
Direct Line: +603 2162 7800 ext 65
Fax: +603 2162 7810

For sponsorship & speaking opportunities:

Andrew Tebbutt
Managing Director
[email protected]
Direct Line: +603 2162 7802

For marketing and media enquiries

Tiviaa James
Marketing Executive
[email protected]
Direct Line: +603 2162 7800 ext 62