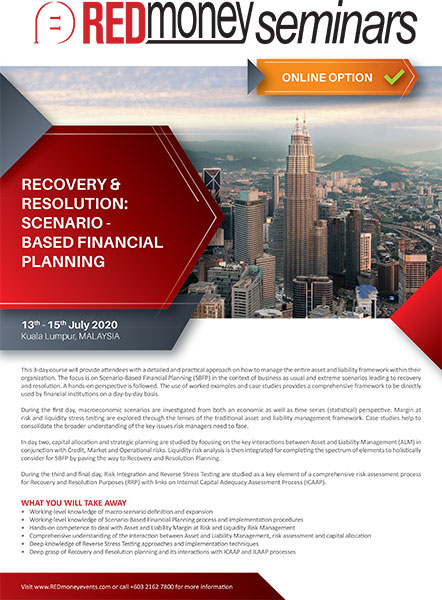 Course Background
This 3-day course will provide attendees with a detailed and practical approach on how to manage the entire asset and liability framework within their organization. The focus is on Scenario-Based Financial Planning (SBFP) in the context of business as usual and extreme scenarios leading to recovery and resolution. A hands-on perspective is followed. The use of worked examples and case studies provides a comprehensive framework to be directly used by financial institutions on a day-by-day basis.

During the first day, macroeconomic scenarios are investigated from both an economic as well as time series (statistical) perspective. Margin at risk and liquidity stress testing are explored through the lenses of the traditional asset and liability management framework. Case studies help to consolidate the broader understanding of the key issues risk managers need to face.

In day two, capital allocation and strategic planning are studied by focusing on the key interactions between Asset and Liability Management (ALM) in conjunction with Credit, Market and Operational risks. Liquidity risk analysis is then integrated for completing the spectrum of elements to holistically consider for SBFP by paving the way to Recovery and Resolution Planning.

During the third and final day, Risk Integration and Reverse Stress Testing are studied as a key element of a comprehensive risk assessment process for Recovery and Resolution Purposes (RRP) with links on Internal Capital Adequacy Assessment Process (ICAAP).

WHAT YOU WILL TAKE AWAY
Working-level knowledge of macro-scenario definition and expansion
Working-level knowledge of Scenario-Based Financial Planning process and implementation procedures
Hands-on competence to deal with Asset and Liability Margin at Risk and Liquidity Risk Management
Comprehensive understanding of the interaction between Asset and Liability Management, risk assessment and capital allocation
Deep knowledge of Reverse Stress Testing approaches and implementation techniques
Deep grasp of Recovery and Resolution planning and its interactions with ICAAP and ILAAP processes
For enquiries please contact:


Mathias Sosovele
Account Manager, REDmoney Seminars
[email protected]
Direct Line: +603 2162 7800 ext 25

Normariya Sariman
Account Manager, REDmoney Seminars
[email protected]
Direct Line: +603 2162 7800 ext 44

Ramesh Kalimuthu
Events Sales Director
[email protected]
Direct Line: +603 2162 7800 ext 65
Fax: +603 2162 7810

For sponsorship & speaking opportunities:

Andrew Tebbutt
Managing Director
[email protected]
Direct Line: +603 2162 7802

For marketing and media enquiries

Tiviaa James
Marketing Executive
[email protected]
Direct Line: +603 2162 7800 ext 62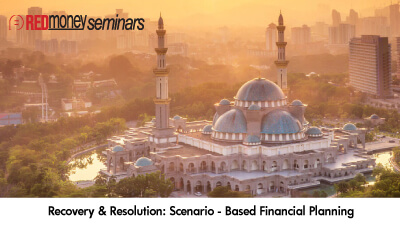 Course Background
This 3-day course will provide attendees with a detailed and practical approach on how to manage the entire asset and liability framework within their organization. The focus is on Scenario-Based Financial Planning (SBFP) in the context of business as usual and extreme scenarios leading to recovery and resolution. A hands-on perspective is followed. The use of worked examples and case studies provides a comprehensive framework to be directly used by financial institutions on a day-by-day basis.

During the first day, macroeconomic scenarios are investigated from both an economic as well as time series (statistical) perspective. Margin at risk and liquidity stress testing are explored through the lenses of the traditional asset and liability management framework. Case studies help to consolidate the broader understanding of the key issues risk managers need to face.

In day two, capital allocation and strategic planning are studied by focusing on the key interactions between Asset and Liability Management (ALM) in conjunction with Credit, Market and Operational risks. Liquidity risk analysis is then integrated for completing the spectrum of elements to holistically consider for SBFP by paving the way to Recovery and Resolution Planning.

During the third and final day, Risk Integration and Reverse Stress Testing are studied as a key element of a comprehensive risk assessment process for Recovery and Resolution Purposes (RRP) with links on Internal Capital Adequacy Assessment Process (ICAAP).

WHAT YOU WILL TAKE AWAY
Working-level knowledge of macro-scenario definition and expansion
Working-level knowledge of Scenario-Based Financial Planning process and implementation procedures
Hands-on competence to deal with Asset and Liability Margin at Risk and Liquidity Risk Management
Comprehensive understanding of the interaction between Asset and Liability Management, risk assessment and capital allocation
Deep knowledge of Reverse Stress Testing approaches and implementation techniques
Deep grasp of Recovery and Resolution planning and its interactions with ICAAP and ILAAP processes
Seminar Agenda
Day One
08:30 – 09:00
Registration and Coffee

09:00 – 10:30 Session One: Introduction to Macroeconomic Analysis
Course overview
Using macroeconomic scenario analysis
10:30 – 11:00
Coffee & Networking Session

11:00 – 12:30 Session Two: Implementing Time Series Analysis for Stress-Testing
Deploying Vector Auto-Regression (VAR) and Global Vector Auto-Regression (GVAR) modelling techniques for more accurate results
Macroeconomic scenario analysis in Matlab/R
12:30 – 14:00
Lunch

14:00 – 15:30 Session Three: Margin at Risk Stress-Testing
Using asset and liability management gap analysis
Conducting a Net Interest Income (NII) analysis
Behavioural modelling in Matlab/R
Case Study: Stress test on Net Interest Income behavioural modelling

15:30 – 16:00
Coffee & Networking Session

16:00 – 17:30 Session Four: Liquidity Risk Stress-Testing
Managerial approach to liquidity risk
Calculating the Liquidity Coverage Ratio (LCR)
Calculating the Net Stable Funding Ratio (NSFR)
Case Study: Stress test on Liquidity Coverage Ratio and Net Stable Funding Ratio
Day Two
08:30 – 09:00
Registration and Coffee

09:00 – 10:30 Session One: Credit Risk Stress-Testing
Linking credit risk parameters with the relevant macroeconomic variables
Case Study: Credit risk stress testing

10:30 – 11:00
Coffee & Networking Session

11:00 – 12:30 Session Two: Balance Sheet Management Stress-Testing
Building balance sheet projections
Building profit and loss projections
Case Study: Balance sheet stress testing

12:30 – 14:00
Lunch

14:00 – 15:30 Session Three: Effective Risk Integration
Designing a comprehensive top-down risk integration model
Contrasting a top-down and bottom-up modelling framework: Which works best for your organization?
15:30 – 16:00
Coffee & Networking Session

16:00 – 17:30 Session Four: Introduction to Reverse Stress-Testing
Understanding Internal Capital Adequacy Assessment Process (ICAAP) reverse stress-testing
Recovery and resolution stress-testing
Day Three
08:30 – 09:00
Registration and Coffee

09:00 – 10:30 Session One: Recovery and Resolution Scenarios
Assessing reverse stress-testing objective function
Identifying vulnerability thresholds
Analyzing a bank specific event causing bankruptcy
10:30 – 11:00
Coffee & Networking Session

11:00 – 12:30 Session Two: Case study on Recovery and Resolution Scenarios
What specific macroeconomic scenarios can lead to a failure within a bank?
Conducting a comprehensive 'What If' analysis for reverse stress testing
12:30 – 14:00
Lunch

14:00 – 15:30 Session Three: Defining a Recovery and Resolution Plan
Benchmarking specific milestones for a robust recovery and resolution plan
How to design a recovery and resolution plan?
15:30 – 16:00
Coffee & Networking Session

16:00 – 17:30 Session Four: Improving the Interaction between Recovery and Resolution with Other Processes
Recovery and Resolution Purposes (RRP) and ICAAP
RRP and stress-testing
RRP and business planning
RRP and its organizational impacts
SEMINAR SPEAKER




Dr Tiziano Bellini
PhD, (Statistics)
Worked in risk management and finance across Europe, London and New York for the past 20 years.
Experience include Barclays Capital, EY Financial Advisory Services in London, HSBC headquarter, Prometeia and other global leading companies.
Guest lecturer at the London School of Economics, Imperial College of London, University of Passau in Germany.
Doctorate in statistics from University of Milan and London School of Economics.
Authored the books "Stress Testing and Risk integration in Banks: a Statistical Framework and Practical Software guide in Matlab and R", "IFRS 9 and CECL Credit Risk Modelling and Validation: A Practical Guide with Examples Worked in R and SAS".
Authored papers published in European Journal of Operational Research (EJOR), Computational Statistics and Data Analysis (CSDA) and other top reviewed Journals.
Referees of Journal of Banking and Finance (Elsevier) and Journal of Applied Statistics (Taylor &Francis) and other top Journals.
Trainer in risk management and statistics, he is also a Chartered Public accountant and Tax Expert.
For enquiries please contact:


Mathias Sosovele
Account Manager, REDmoney Seminars
[email protected]
Direct Line: +603 2162 7800 ext 25

Normariya Sariman
Account Manager, REDmoney Seminars
[email protected]
Direct Line: +603 2162 7800 ext 44

Ramesh Kalimuthu
Events Sales Director
[email protected]
Direct Line: +603 2162 7800 ext 65
Fax: +603 2162 7810

For sponsorship & speaking opportunities:

Andrew Tebbutt
Managing Director
[email protected]
Direct Line: +603 2162 7802

For marketing and media enquiries

Tiviaa James
Marketing Executive
[email protected]
Direct Line: +603 2162 7800 ext 62