Course Outcomes
KEY HIGHLIGHTS
Leveraging technology through digital transformation for more precise and accurate internal auditing
Protecting your company's digital security and pre-empting potential business risks and threats
Putting in place fool-proof risk assessment and audit plans through the use of Artificial Intelligence (AI) and predictive data analytics
Improving internal audit controls with the rise of mobile technology and cloud services
Synchronizing audit practices and frameworks with local and international regulations
Audit data analytics: Shifting the focus to key strategic risks through early identification of high-risk patterns and anomalies
The new role of the audit committees and Chief Financial Officers (CFOs) in a digital business landscape
08:30 – 09:00
Registration and Coffee

09:00 – 10:30 Analyzing the Impact of Digital Transformation on Internal Audit
Adaptability to new technologies, regulations and legislations
Keeping up with different business models: New audit techniques for virtual transactions?
Moving from paper trails to digital footprints
10:30 – 11:00
Tea Break

11:00 – 12:30 Strengthening Digital Security

The erosion of boundaries between customers and business partners create difficulties in establishing effective controls when processes involve external vendors
Protecting data resources
Data analytics and cloud computing
Structuring an audit framework based on the "digital maturity" of your organization
Risks, threats and control options
12:30 – 14:00
Lunch

14:00 – 15:30 Revisiting Effective Risk Assessment Processes
Robotic process automation
Predictive analysis and data mining
Artificial intelligence
15:30 – 16:00
Tea Break

16:00 – 17:00 Upgrading Internal Audit Controls
Reconciling controls with advancing technological and business concepts
Cyber fraud risk
Closing the knowledge gap:

Consolidating audit control tests

Expanding technical capabilities through the emergence of mobile technology and cloud services
08:30 – 09:00
Registration and Coffee

09:00 – 10:30 Legislation and Regulatory Changes
Conducting a brief review of key international and local legislation
Cybersecurity and data protection: Planning for new risks and enhancing existing data protection practices
Increasing network security:

Access controls
Data masking
Authentication
Intrusion prevention

Assessing the effects General Data Prevention Regulation (GDPR) implementation on businesses and auditing standards
10:30 – 11:00
Tea Break

11:00 – 12:30 Applying Data Analytics in Internal Audit
Improving assurance and reducing the margin of error
Identifying early anomalies and high-risk patterns
Focusing on strategic risks by automating routine audit checks
12:30 – 14:00
Lunch

14:00 – 15:30 Change Management and the Digital Business Model
Assessing the digital changes in finance organizations
How far do CFOs need to reconsider their role and make certain the company is getting the right financial advice?
Enabling companies to take advantage of digital transformation:

Transformation in the finance organization and in the business model are interconnected
Digital tools and technologies help finance teams become more efficient
Digitalization also makes finance organizations more effective
15:30 – 16:00
Tea Break

16:00 – 17:00 Audit Committees, Governance and the Need to 'Keep Up'
Audit committees need to ensure CFOs are utilizing new technologies to evolve their (finance) functions
Increasing oversight in:

Risk management: Determining how to take advantage of opportunities and mitigate risks
Acquisition and integration monitoring: Managing challenges when a company partners with a technology firm
Human resources must ensure employees have the training to use any new tools
Other hurdles, such as different levels of urgency within the organization
For enquiries please contact:


Mathias Sosovele
Account Manager, REDmoney Seminars
[email protected]
Direct Line: +603 2162 7800 ext 25

Normariya Sariman
Account Manager, REDmoney Seminars
[email protected]
Direct Line: +603 2162 7800 ext 44

Ramesh Kalimuthu
Events Sales Director
[email protected]
Direct Line: +603 2162 7800 ext 65
Fax: +603 2162 7810

For sponsorship & speaking opportunities:

Andrew Tebbutt
Managing Director
[email protected]
Direct Line: +603 2162 7802

For marketing and media enquiries

Tiviaa James
Marketing Executive
[email protected]
Direct Line: +603 2162 7800 ext 62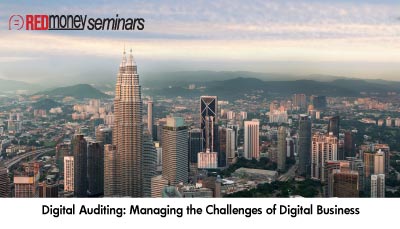 Course Outcomes
KEY HIGHLIGHTS
Leveraging technology through digital transformation for more precise and accurate internal auditing
Protecting your company's digital security and pre-empting potential business risks and threats
Putting in place fool-proof risk assessment and audit plans through the use of Artificial Intelligence (AI) and predictive data analytics
Improving internal audit controls with the rise of mobile technology and cloud services
Synchronizing audit practices and frameworks with local and international regulations
Audit data analytics: Shifting the focus to key strategic risks through early identification of high-risk patterns and anomalies
The new role of the audit committees and Chief Financial Officers (CFOs) in a digital business landscape
Seminar Agenda
08:30 – 09:00
Registration and Coffee

09:00 – 10:30 Analyzing the Impact of Digital Transformation on Internal Audit
Adaptability to new technologies, regulations and legislations
Keeping up with different business models: New audit techniques for virtual transactions?
Moving from paper trails to digital footprints
10:30 – 11:00
Tea Break

11:00 – 12:30 Strengthening Digital Security

The erosion of boundaries between customers and business partners create difficulties in establishing effective controls when processes involve external vendors
Protecting data resources
Data analytics and cloud computing
Structuring an audit framework based on the "digital maturity" of your organization
Risks, threats and control options
12:30 – 14:00
Lunch

14:00 – 15:30 Revisiting Effective Risk Assessment Processes
Robotic process automation
Predictive analysis and data mining
Artificial intelligence
15:30 – 16:00
Tea Break

16:00 – 17:00 Upgrading Internal Audit Controls
Reconciling controls with advancing technological and business concepts
Cyber fraud risk
Closing the knowledge gap:

Consolidating audit control tests

Expanding technical capabilities through the emergence of mobile technology and cloud services
08:30 – 09:00
Registration and Coffee

09:00 – 10:30 Legislation and Regulatory Changes
Conducting a brief review of key international and local legislation
Cybersecurity and data protection: Planning for new risks and enhancing existing data protection practices
Increasing network security:

Access controls
Data masking
Authentication
Intrusion prevention

Assessing the effects General Data Prevention Regulation (GDPR) implementation on businesses and auditing standards
10:30 – 11:00
Tea Break

11:00 – 12:30 Applying Data Analytics in Internal Audit
Improving assurance and reducing the margin of error
Identifying early anomalies and high-risk patterns
Focusing on strategic risks by automating routine audit checks
12:30 – 14:00
Lunch

14:00 – 15:30 Change Management and the Digital Business Model
Assessing the digital changes in finance organizations
How far do CFOs need to reconsider their role and make certain the company is getting the right financial advice?
Enabling companies to take advantage of digital transformation:

Transformation in the finance organization and in the business model are interconnected
Digital tools and technologies help finance teams become more efficient
Digitalization also makes finance organizations more effective
15:30 – 16:00
Tea Break

16:00 – 17:00 Audit Committees, Governance and the Need to 'Keep Up'
Audit committees need to ensure CFOs are utilizing new technologies to evolve their (finance) functions
Increasing oversight in:

Risk management: Determining how to take advantage of opportunities and mitigate risks
Acquisition and integration monitoring: Managing challenges when a company partners with a technology firm
Human resources must ensure employees have the training to use any new tools
Other hurdles, such as different levels of urgency within the organization
Seminar Speaker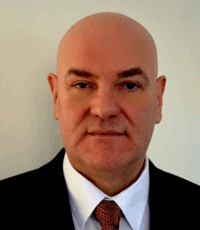 Ian Ross
Director, Financial Crime Risk Specialist & Training, DETECTA EUS

Ian Ross has more than 30 years' experience in compliance management and the investigation of financial crime. A former UK police officer now established in key international commercial sectors supporting regulators, main industries, national banks, multi-national corporate entities, and international law enforcement. A highly sought after global trainer. He has presented at numerous global events including for the Association of Certified Fraud Examiners (ACFE). He is also a regular presenter at international events and conferences.
His list of qualifications include:

Accredited Counter Fraud Specialist (ACFS)
'Listed expert': Cour pénale international (The International Court of Justice (The Hague)
Fellow Chartered Management Institute (FCMI)
Trainer: Association of Certified Anti-Money Laundering Specialists (ACAMS)
His Publications/Books Include:

Exposing Fraud: 'Skills, Process and Practicalities' (2015)
CC1. 'The Investigations' Toolkit' (2018)
'Overcoming Narcissism and Heuristics. Investigative interviewing of Corporate Fraudsters (2019)
His List of Clients Include But Are Not Limited To:

AXA Health Insurance
Oman Arab Bank
Kuwait Investment Authority
Mauritius Banking Association
Serious Fraud Office (UK)
New Zealand Aviation Authority
Sime Darby (Malaysia)
Maybank
Royal Oman Police (ROP)
Oman Ministry of Defence
Arabia Insurance
'De Inspectie' Police (Netherlands)
Marie Stopes International
Why You Should Attend
Audit departments are being tasked with providing more value and delivering deeper insights to the company's business in today's digital world. Technological innovations are unquestionably changing the way companies do business. Legacy systems are being replaced with mobile and cloud computing, the Internet of Things (IoT), automation and artificial intelligence. With the above in mind, we present a 2-day training program which addresses two key themes:

The impact of digital technologies on internal audit
Digital innovation and transformation in the financial and other institutions
With the increasing number of data and security breaches over the last few years, information security audit has gained greater importance to protect businesses from 3rd party hacks and threats. The conventional auditing has shifted whereby auditors , finance professionals and IT/risk security heads need to work together to apply the right processes and data analytics in line with recent regulatory and legislative changes. Do not miss out on this very hands-on and interactive 2-day course comprising of presentations, case studies, multidirectional discussions and comprehensive exercises.
For enquiries please contact:


Mathias Sosovele
Account Manager, REDmoney Seminars
[email protected]
Direct Line: +603 2162 7800 ext 25

Normariya Sariman
Account Manager, REDmoney Seminars
[email protected]
Direct Line: +603 2162 7800 ext 44

Ramesh Kalimuthu
Events Sales Director
[email protected]
Direct Line: +603 2162 7800 ext 65
Fax: +603 2162 7810

For sponsorship & speaking opportunities:

Andrew Tebbutt
Managing Director
[email protected]
Direct Line: +603 2162 7802

For marketing and media enquiries

Tiviaa James
Marketing Executive
[email protected]
Direct Line: +603 2162 7800 ext 62